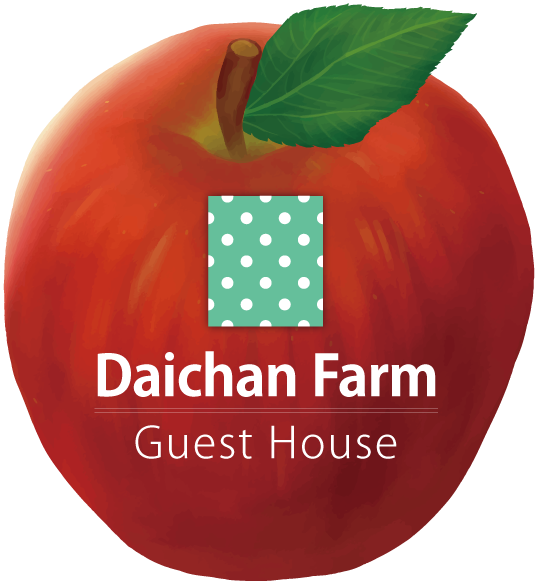 A Farm Stay in the Town of Asahi, Yamagata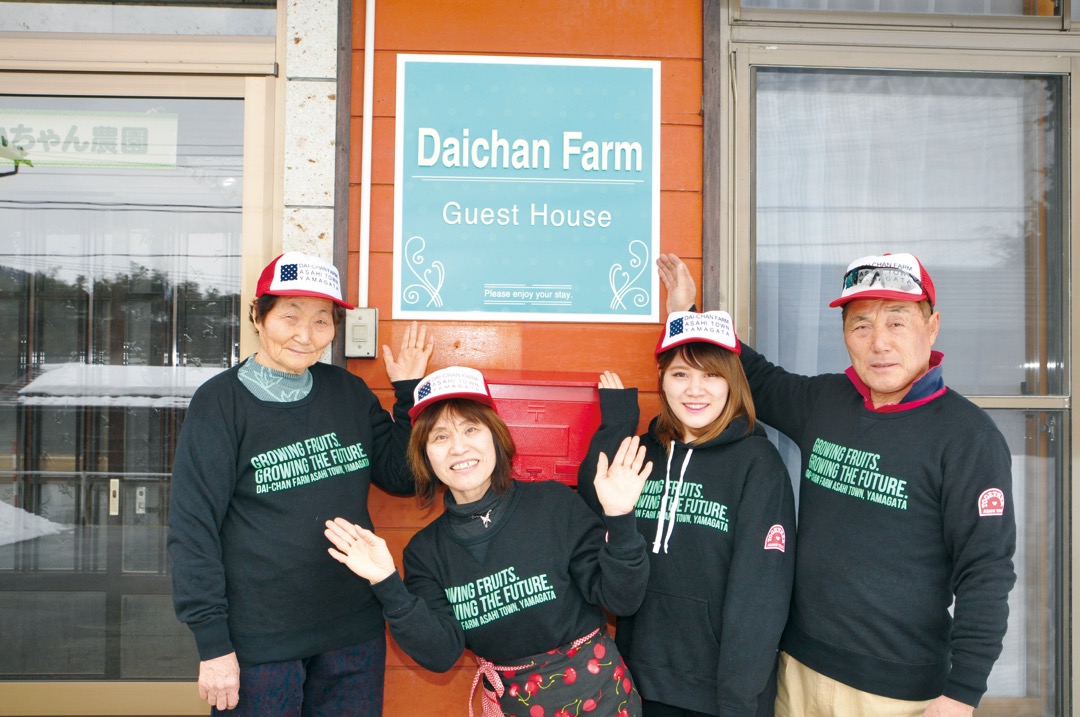 WELCOME TO OUR GUEST HOUSE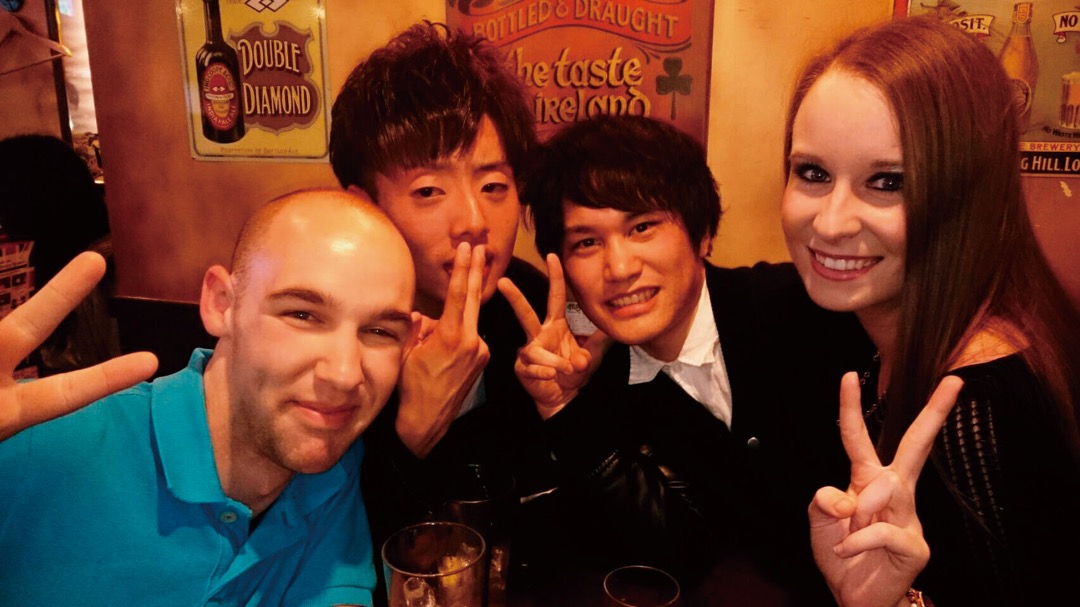 Welcome to the Daichan Farm Guest House!
Daichan Farm is an orchard that's been operating for 450 years, and Masatoshi Shito is the 10th generation of Shitos to have grown fruit here.
He named the farm after his son Daisuke's nickname, Dai-chan. With the philosophy that all visitors are like family, we treasure our connections with our guests.At Daichan Farm Guest House, you can experience life as it is, tilling the soil together, eating together, and basking in the warmth of unpretentious country hospitality.Asahi Town, rich in nature, is where to find great apples, great wine and great people!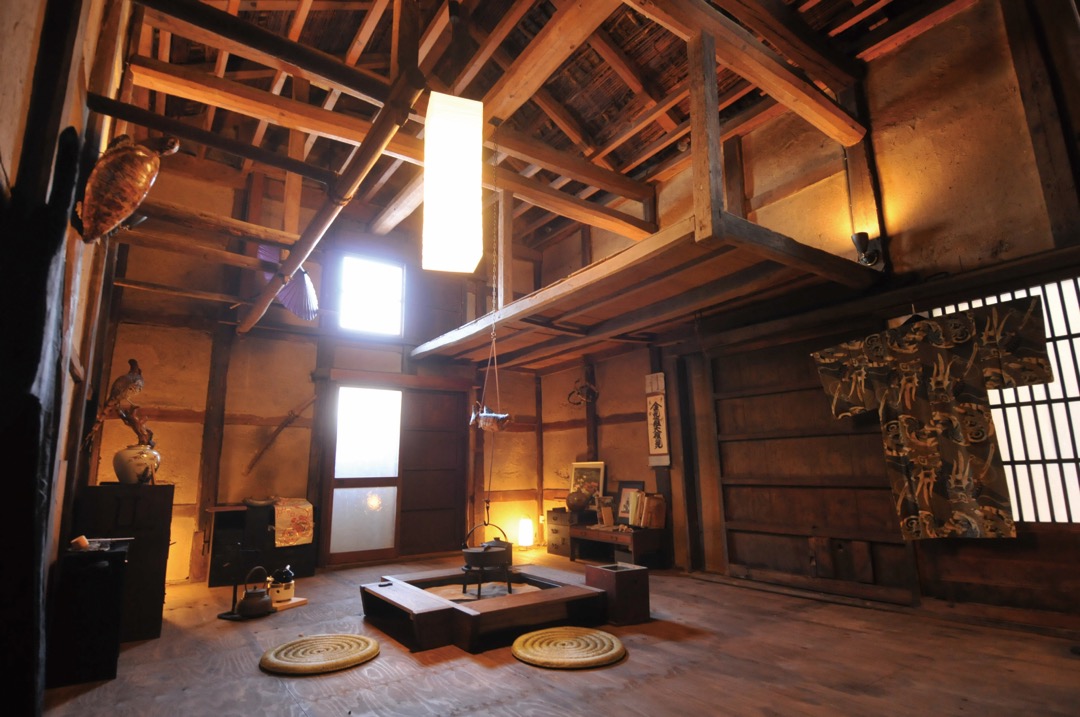 Growing the Fruits, Growing the Future!
Imagine yourself listening to the babbling of the Mogami River, enjoying the scents of wine and apples, as you let yourself relax completely.
You can gather your favorite fruits and vegetables from the fields and cook local dishes with us, or just eat them as served!♪ Or you can try your hand at cultivating or harvesting apples or cherries. Or just do nothing at all and relax. Whatever you want--it's up to you.
Guest rooms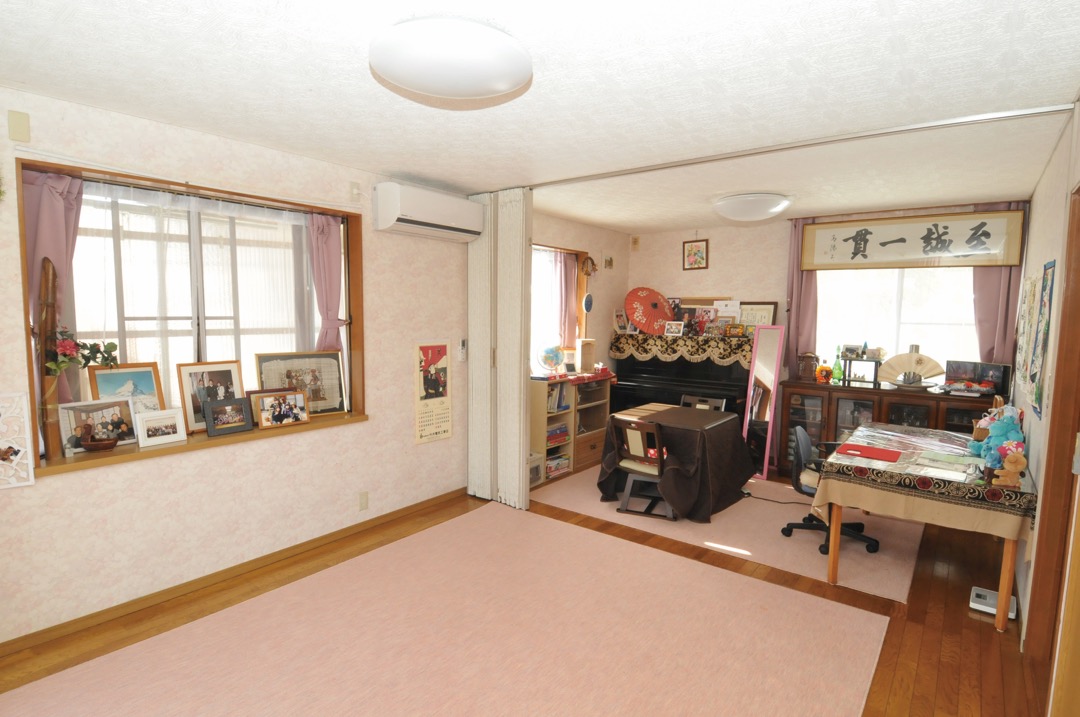 CHERRY
Capacity: 3 guests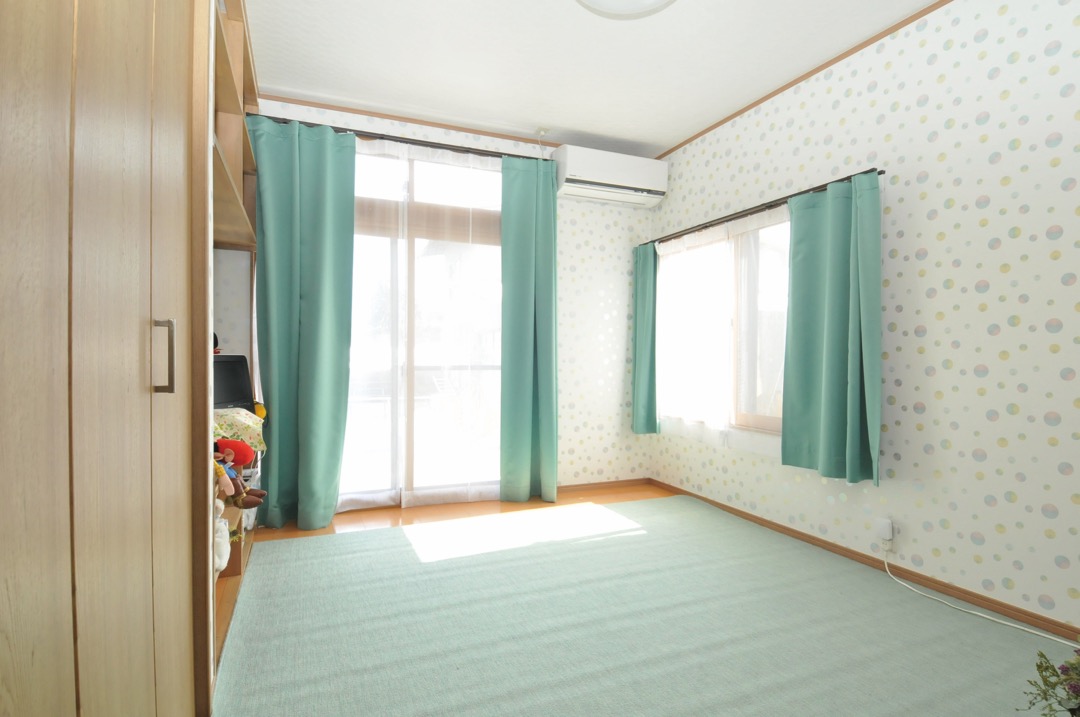 APPLE
Capacity: 2 guests
We offer two guest rooms.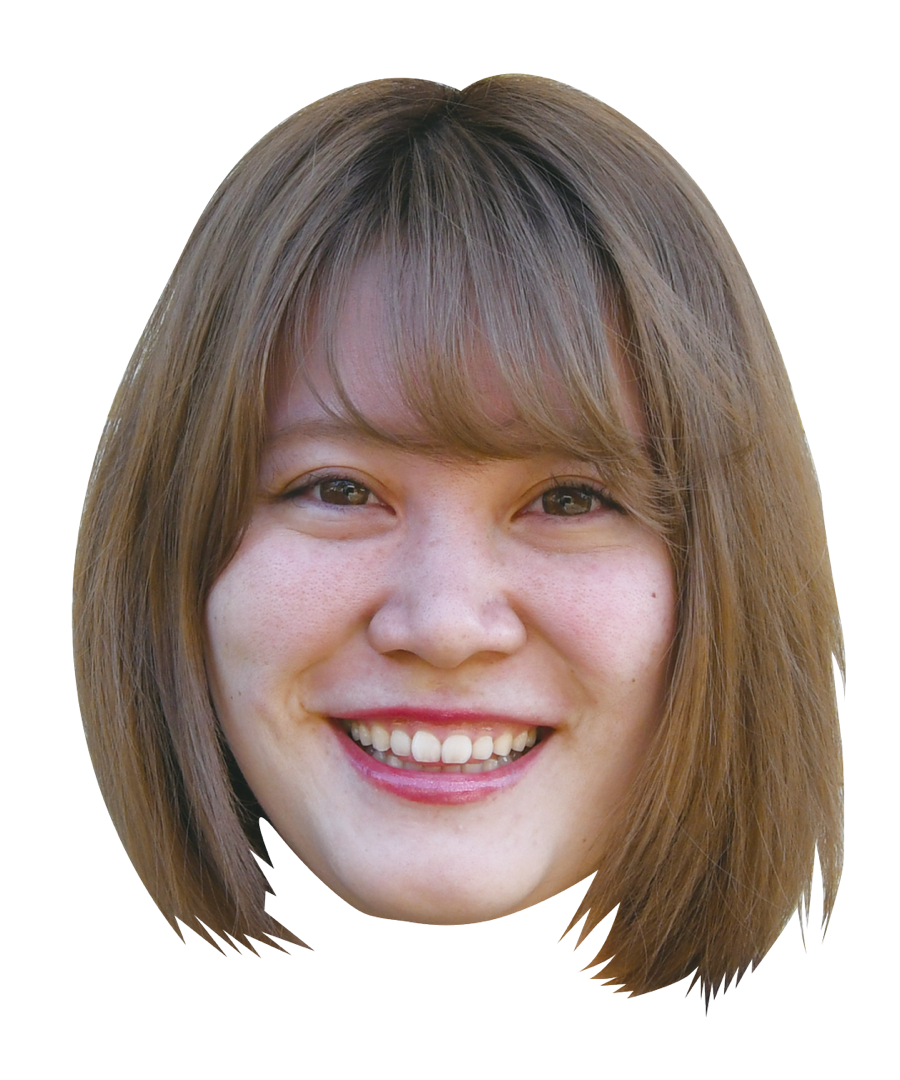 Our daughter
Nagisa
Hands-on programs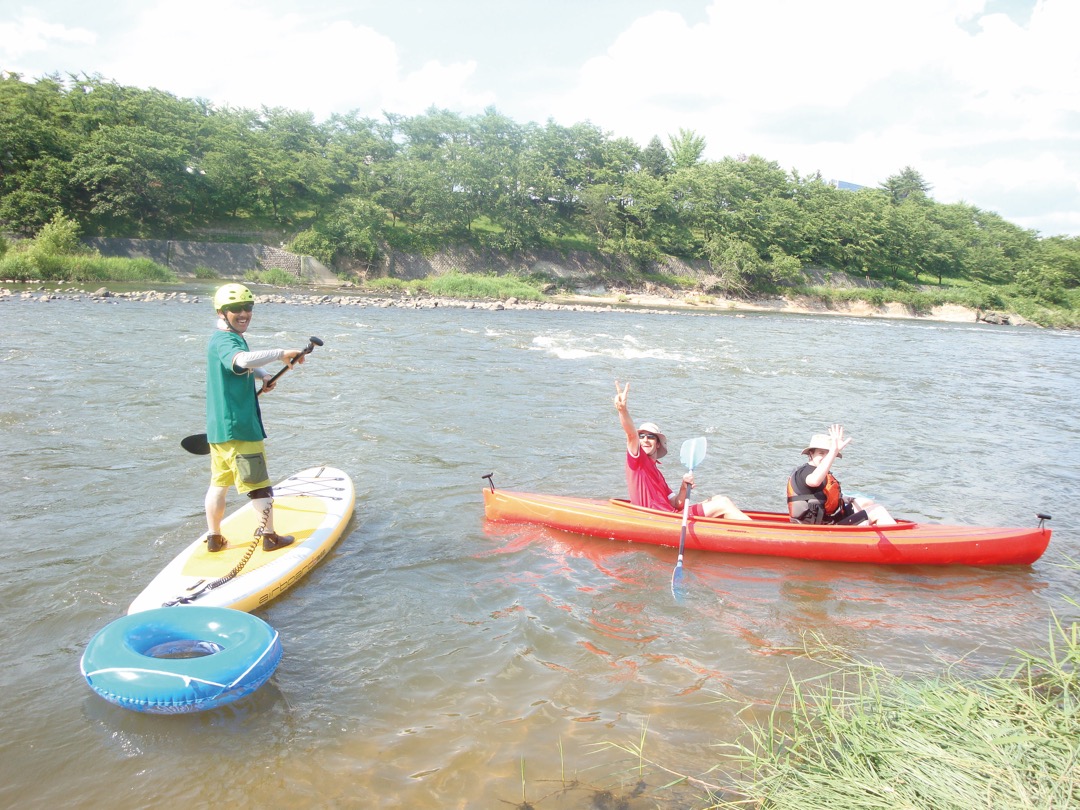 Main programs
● Rice-planting, gathering wild vegetables (with free gift): May
● Cherry-picking (and try pollinating as well) (with free gift): June, July
● Apple-picking (and try thinning and flower-picking as well) (with free gift)
● Eco-trekking (Dream tour around Asahi)
● Learn how to make pickles
● Learn how to make traditional Yamagata dishes
*Reservations required for all programs.
*Please contact us via our website or by phone for details of times and costs.
Experience the life of a country farmer.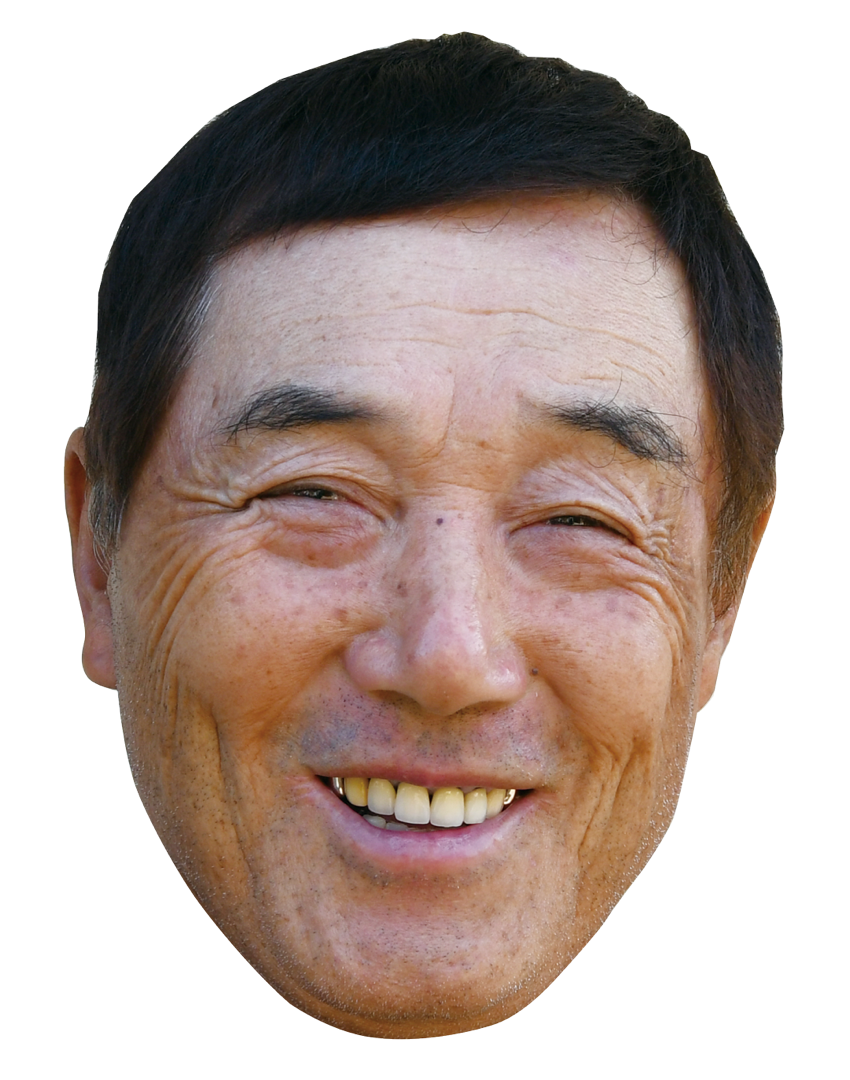 Owner
Papa
Meals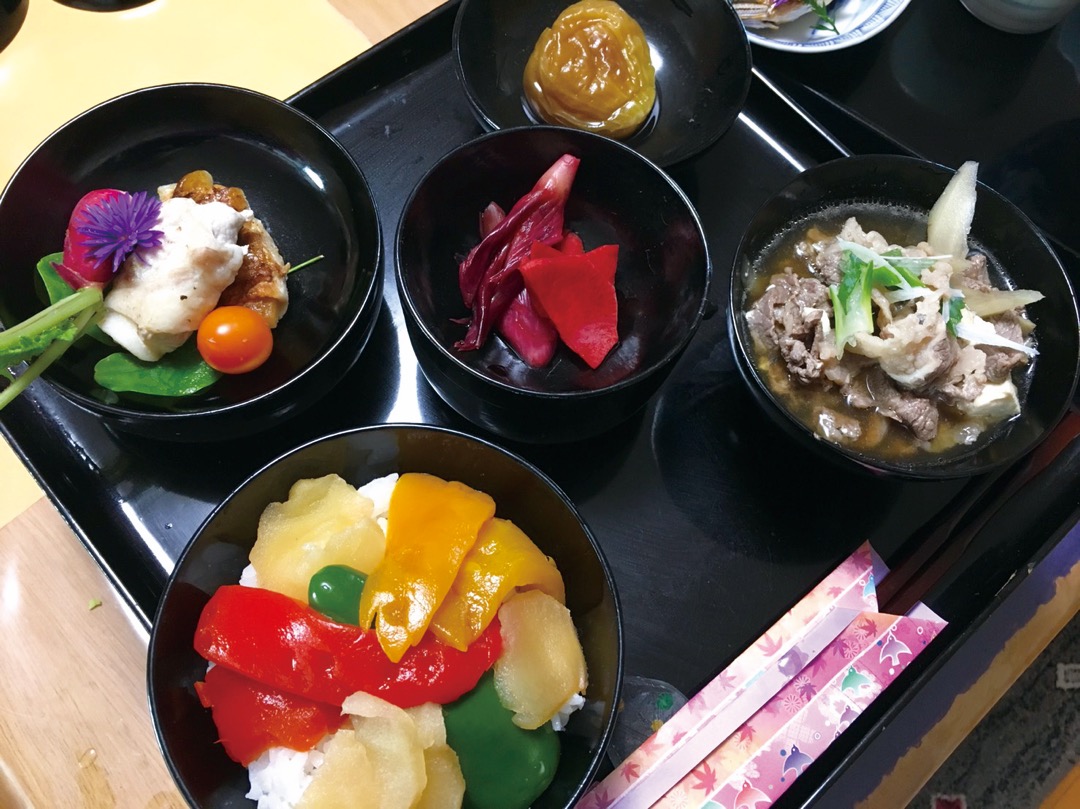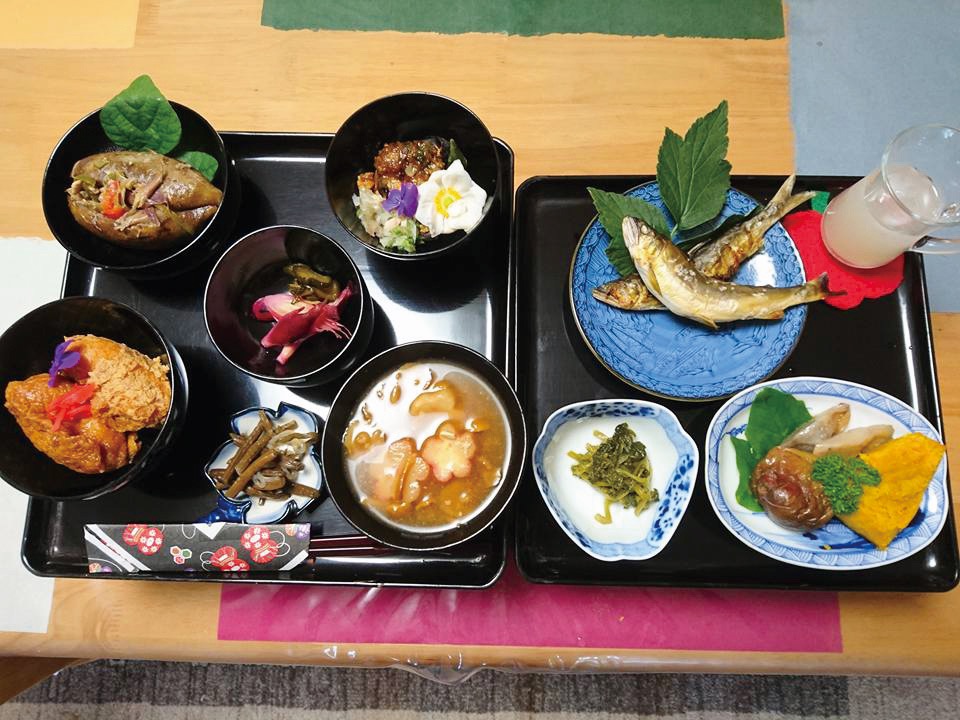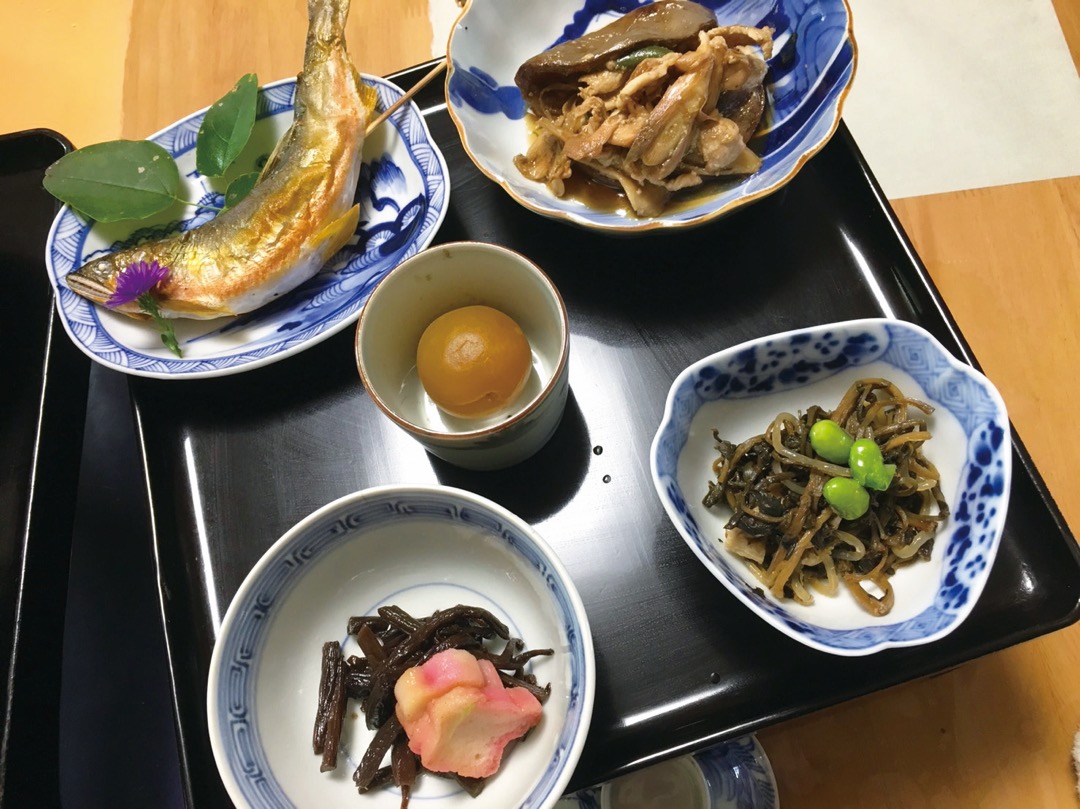 Our popular Yayoi-hime Gozen course ♪
Meals feature healthy menus that use only the most carefully selected ingredients. From fruit and vegetables to rice, everything is handpicked by Masatoshi to be both safe and good for you! We keep the use of seasonings to a minimum to allow you to taste the best from each season, bringing out the natural sweetness and crispness and scents of the ingredients. Many of our guests are also highly impressed by how good our water is! Wild vegetables and mushrooms gathered from the nearby hills in the morning, ayu or sweetfish caught in the Mogami River... As certified "vegetable sommeliers," our "International Akebi" is a popular arrangement of local dishes in new styles, with attention paid to calories and nutrients. We can also accommodate allergies and halal dietary restrictions.
● Yayoi-hime Gozen, eating around a traditional open hearth in the old storehouse.
● Nagomi-Zen, eaten as a group with the Shito family.
● Our original stone oven-cooked pizzas and organic barbeques.
*Please discuss your needs when you book.
This is my secret to long and happy life!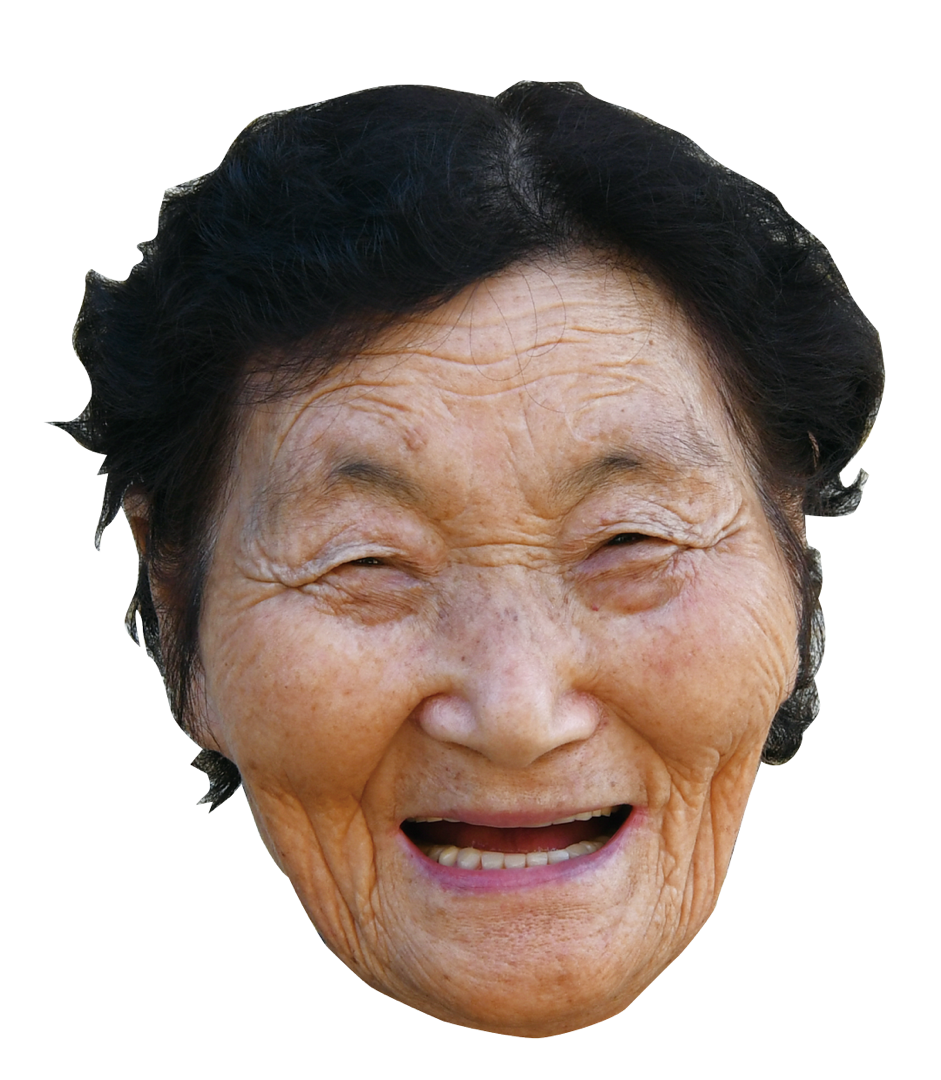 Grandma
Naka-chan
What sort of town is Asahi?
Asahi is a town rich in nature, with more than three-quarters of the land area being virgin forest, mostly in the Asahi Ranges (nicknamed "Tohoku's Alps") and Bandai-Asahi National Park. The Mogami River, Yamagata's "mother river," flows north through the town. Apples and grapes are grown here in great quantities, and our apples especially are famous both nationwide and worldwide. Daichan Farm is an orchard nestled in the scenic hills of Asahi.
I fell in love with this town ever since I arrived from Chiba as a young bride ♪
Mama
ACCESS GUIDE
■ By car
Tokyo

Tohoku Expressway

Murata Junction

Yamagata Expressway

Sagae IC

R112・R287

Asahi
Sendai

R48

Higashine

R287

Kahoku

R287

Asahi
*About 80 minutes by expressway from Sendai.
■ By bus
Tokyo

Highway Bus (about 6 hours)

Sagae

R287(about 45 minutes)

Asahi
■ By JR train
Tokyo

Yamagata Shinkansen (about 3 hours)

Yamagata

JR Aterazawa Line (about 45 minutes)

Aterazawa

Bus (about 25 minutes)

Asahi

Growing Fruit and Hearts
Daichan Farm Guest House is a farm stay nestled in the Mogami River area of Yamagata Prefecture, in the Tohoku region of northern Japan.
The twittering of birds, the babbling of the river, fruity scents on the breeze, the reddened sunset skies, the twinkling stars.
Here, you can sense the changes of the seasons directly, through what you eat and what you can feel around you.
"From early summer's cherries to late autumn's apples, the best fruit is field-ripened."
Our entire crew are waiting to offer their simple, honest hospitality in a relaxing space that will warm your heart.
We strive to ensure all our guests can relax in ways that suit their lifestyles.
Owners
Masatoshi and Kazue Shito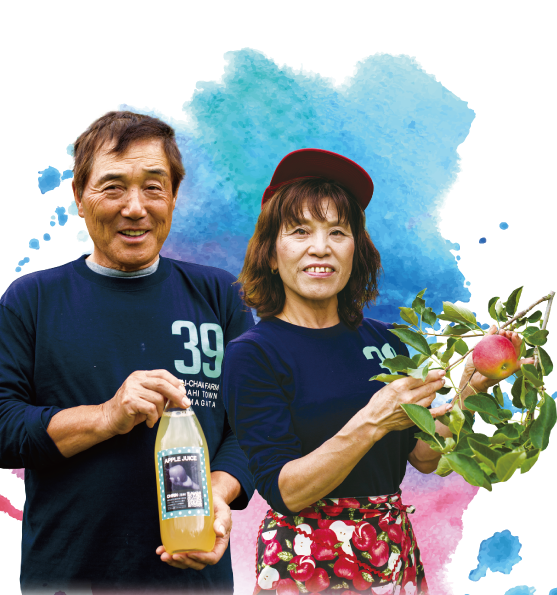 Cherry and Apple Paradise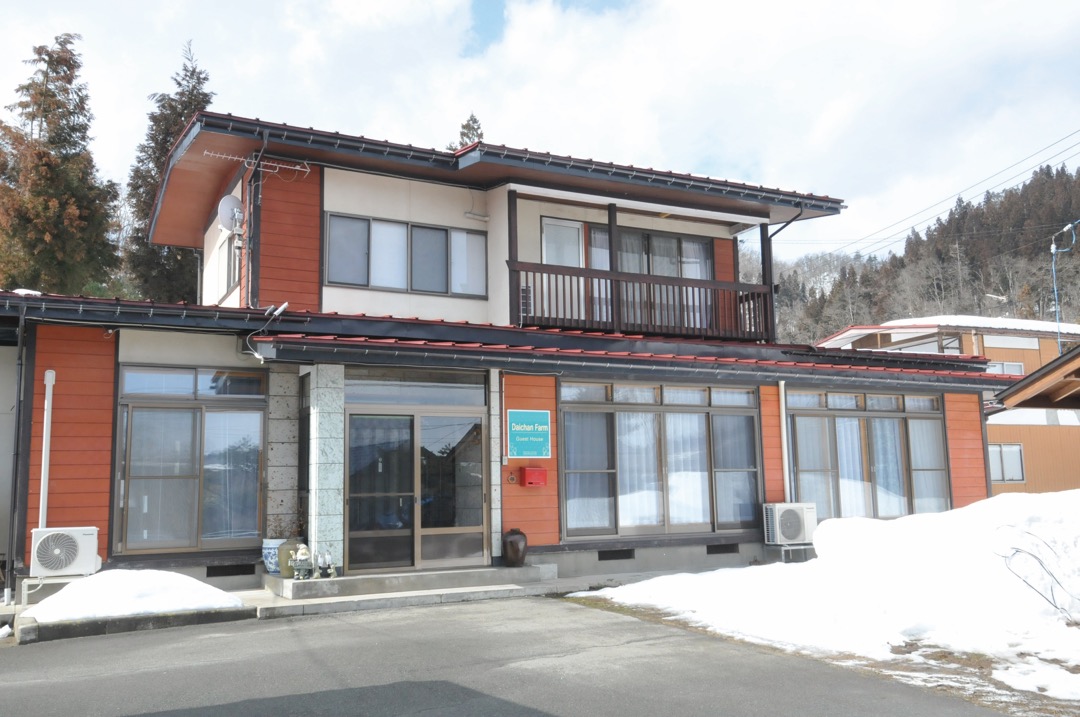 202 Tamanoi, Asahi-machi, Nishimurayama-gun, Yamagata 990-1302
Number for inquiries (between 5 and 8 p.m. Only) / Fax
0237-68-2301
mail-d@daichanfarm.com
http://daichanfarm.com
https://facebook.com/kazueshito