Welcome to Nishina Shinmeigu Shrine
Omachi in Nagano Prefecture, which is a city located under the 3,000m high mountains to the west, is famous for beautiful nature. On the small hill in Omachi, Nishina Shinmeigu Shrine, one of 10 National Treasures in Nagano Prefecture, is sited.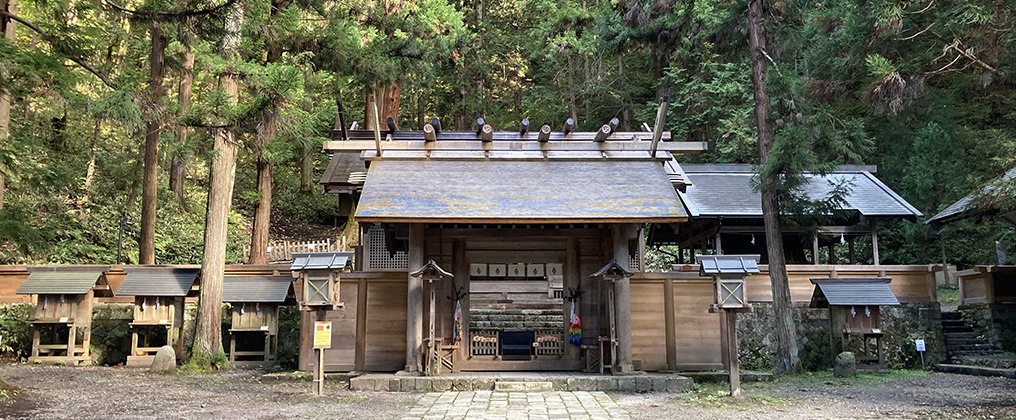 Front of Nishina Shinmeigu Shrine
The history of Nishina Shinmeigu Shrine starts more than 1,000 years ago. In the end of Heian period, when Nishina Mikuriya was established as a manor of Ise Jingu Shrine, Nishina family, a powerful family ruled this area, built Nishina Shinmeigu Shrine to protect the manor.
Nishina Shinmeigu Shrine enshrines Amaterasu-Omikami shared from Naiku in Ise Jingu Shrine. Amaterasu-Omikami is the Shinto goddess, called "Kami", of the sun presides over a good harvest and the peace in the region.
*Ise Jingu Shrine has been worshipped over the years as the most prestigious shrine in Japan, and according to the records about 800 years ago, the shrine held hundreds of manors all over Japan.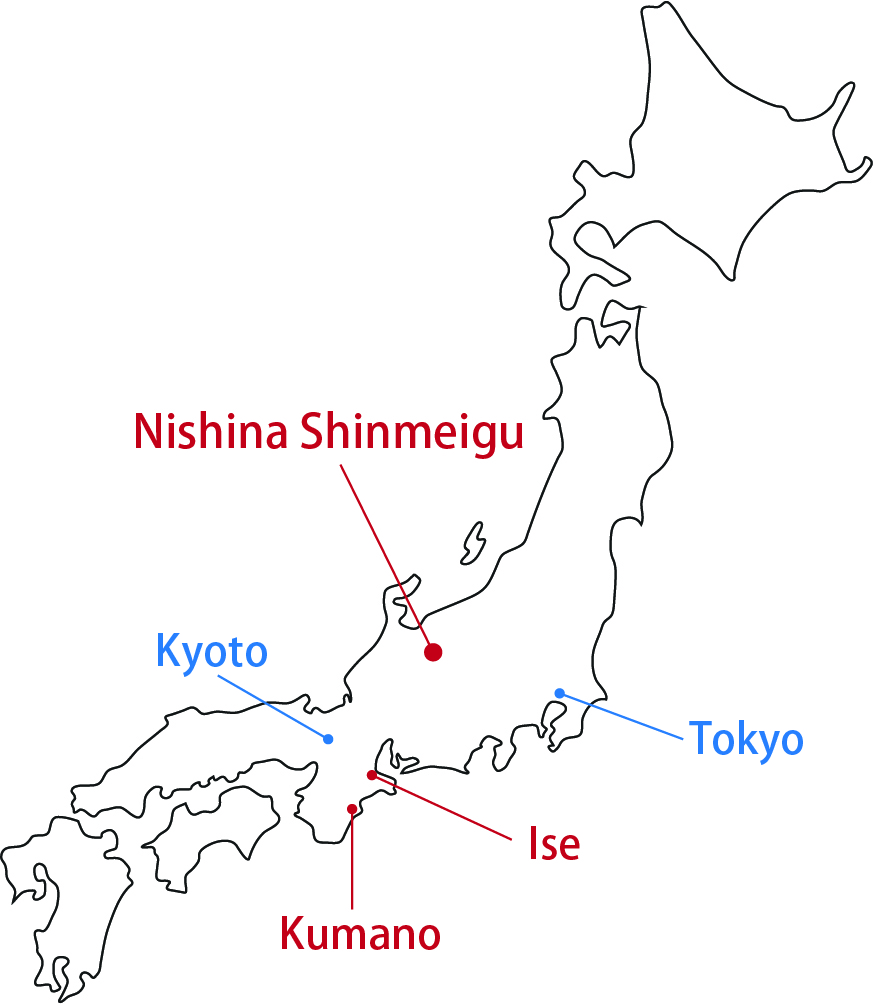 Location of Ise, Kumano, and Omachi
In Japan, it has been believed that Kami resides in every single natural object. After about 1,500 years ago, when Buddhism was introduced from Asian continent, Buddhism and Shintoism were worshiped in a mixed way. In Meiji period, when the government designated Shinto as the national religion, Kami has been enshrined in shrines and Buddha has been enshrined in temples. Nishina Shinmeigu Shrine enshrines Kami.
The forest surrounding the shrine is designated as a Natural Monument by Nagano Prefecture. Especially, the three Japanese cedars said to be aged more than 800 years old symbolize the long history of Nishina Shinmeigu Shrine. In the forest, most of Japanese cedars were brought from Kumano, Wakayama prefecture, by Nishina family, and it is said that they are symbols of good luck because of the tips of those branches all point upwards. If you get the spiritual energy that fills the place of ancient beliefs and the rising energy of the giant tree, you may get lucky.
Before passing under the Ninotorii, the second gate, please purify your hands and mouth. Torii, the gates, is a symbol to distinguish the world of gods and the world of people. The center of the path for Kami, so it is a manner not to path through it. When you visit the shrine, please bow once in front of the gate and walk through the edges.
How to purify your hands (Chozu)