Tojo Park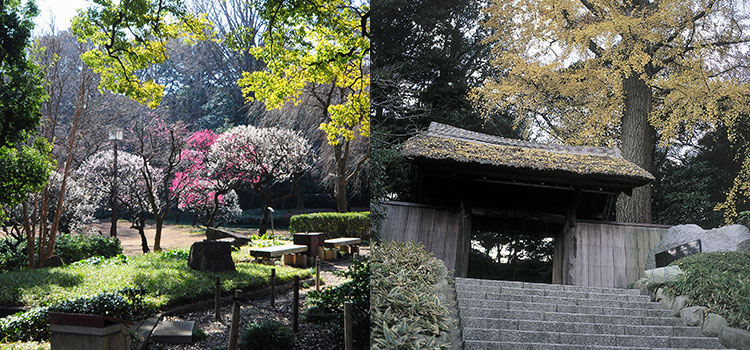 The House of Tokugawa ruled Japan over a period of 260 years from approximately 400 years ago. Whilst no longer in a position of power, remnants of the House of Tokugawa, can still be found in the present day. It is Tojo Park where it is possible to see the dwelling and garden of the House of Tokugawa, built during the period of change after the end of their rule – the Meiji Period (1868 to 1912).
Akitake Tokugawa(1853 to 1910), a younger brother of the last ruler (shogun) of the House of Tokugawa (Yoshinobu Tokugawa, 1837 to 1913), finished building Tojo-tei House in April 1884 and completed work on the garden at the end of 1890. An area of approximately one third the size of the site that once exceeded 70,000m2 has since been turned into a historical park. Within this park you will find the Tojo Museum of History and the Shountei Pavilion, where traditional Japanese tea ceremonies are held.
There are large Japanese umbrella pine and sawara cypress trees at an elevation of about 25m that look out over the Edogawa River and Mt. Fuji on the west side. You can also enjoy seasonal flowers, such as ume (Japanese apricots), deep red weeping cherry trees and potted wisteria. The singing of the birds can be heard throughout this green park.
---