Hanare-zashiki (Detached Parlor) Building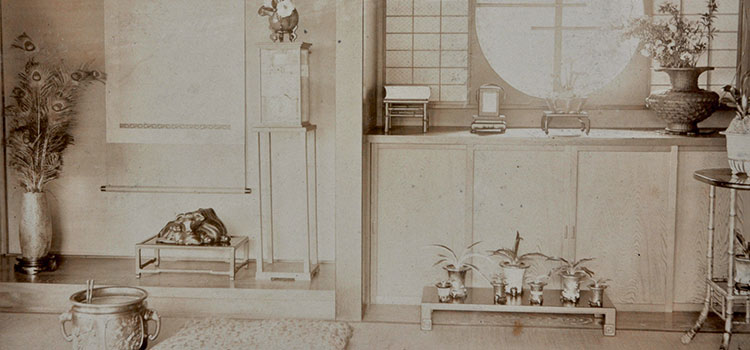 This building was added for Shutei (1834 to 1921), the biological mother of Akitake Tokugawa. The tokonoma faces south, and sun comes in from the south and west, which are both the same design as the Omote-zashiki (Parlor) Building. The cliff to the west is now covered with trees, but when the house was first built, they were cut so there would have been views across the Edogawa River to Mt. Fuji.
The building has three rooms. To the east of the tokonoma is a set of low cupboards with a "sunrise window." The carved transoms feature butterflies, sparrows, and bamboo, creating a light atmosphere. The northern-most room, just four-and-a-half mats in size, was her study, and where the closet in the northwest corner is now was where the soul of Nariaki, the ninth Lord of Mito (1800-1860), was enshrined.
Shutei was the sixth daughter of Madenokoji Takefusa, and her original name was Chikako. As one of Nariaki's concubines, she gave him five sons and one daughter. After Nariaki's death, she called herself Shutei, and in the Meiji period that became her officially registered name. Skilled at calligraphy, she loved Rohdea japonica, and even built a room for them on the north side of her study.

---