How to Dispose of Garbage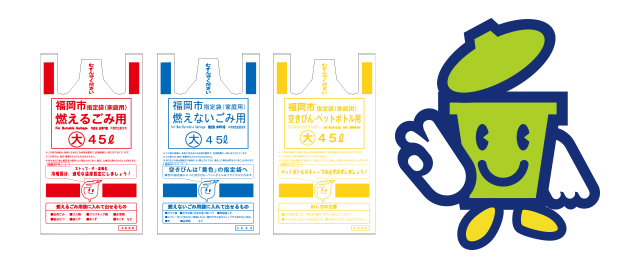 1. Purchase the specified bag to dispose of garbage.
Garbage that is not in the specified bag is not collected.
They are sold at convenience stores and supermarkets.


This mark is shown on the specified bags.

2. There are three types of specified bags.
The bag's color varies depending on the types of garbage.

▶Garbage Types

3. Dispose of garbage at the specified day, time, and area.
No collection of garbage disposed of non-compliantly.
Uncollected garbage becomes a nuisance for those around.
Non-compliant garbage disposal is liable to penalties.

▶When and where to dispose of garbage


4. Only properly bagged garbage is collected.

Please refer to rule no.5 when you can't close the bag or the bag can't stand the weight of garbage.

No collection of garbage disposed of non-compliantly rule no.1 to 4.
The reason of no collection is noted on a yellow-colored sticker and garbage is left at the collection area.
Please dispose of the garbage again upon following the rules.

▶5.How to dispose of garbage that is too large or too heavy for one bag

▶6. How to dispose of air conditioners, televisions, refrigerators, freezers, washing machines, dryers and computers