SHOUSEIKAKU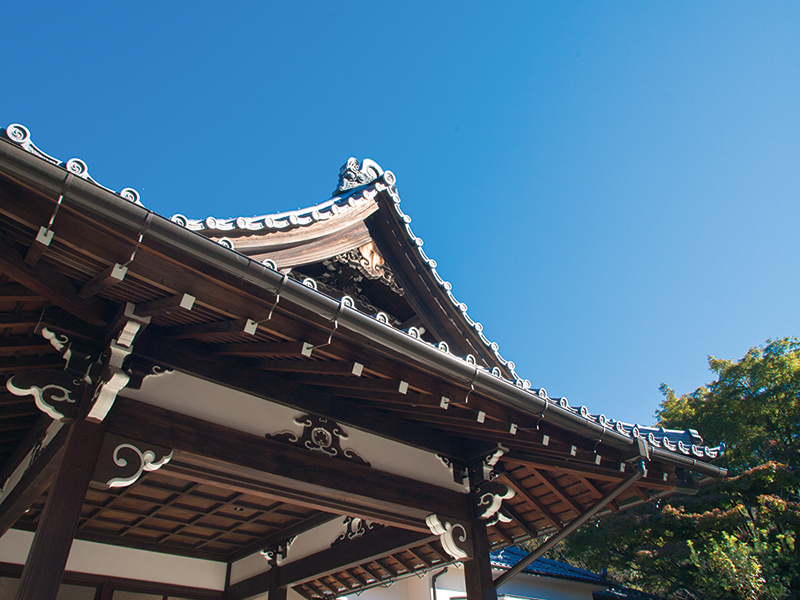 Shouseikaku where you can meet Taisho Romanticism
Overview of Shouseikaku
This building is called Shouseikaku and located on the suburban residence of the Hosokawa family, the old feudal lord of Kumamoto. It seems to have been used as a place of study by the Hosokawa Family. The building was renovated in the Taisho period and used as a residence by the Hosokawa family.
The current building reopened in 2016 after having made repairs with a focus on its historical features and quakeproof structure.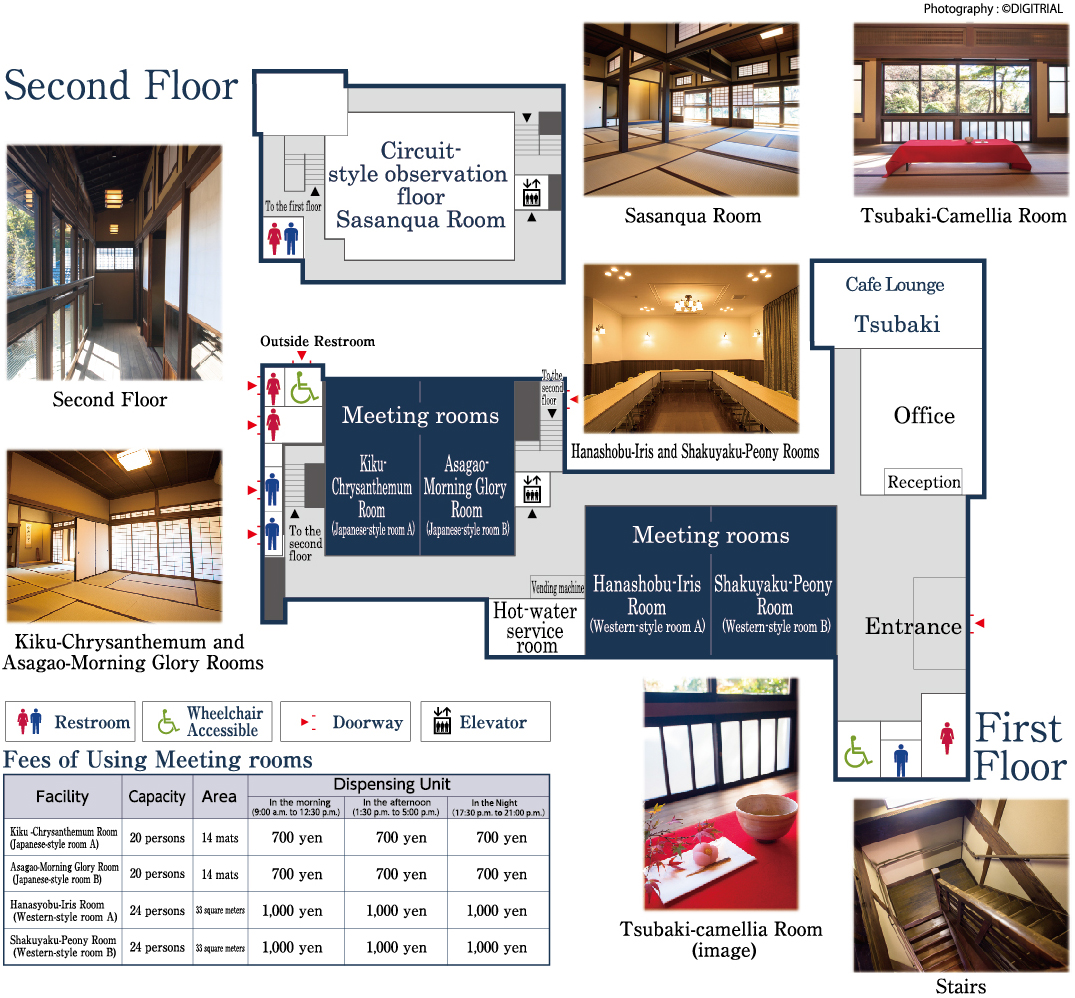 (1) If you want to use the same room for more than two units of time, you can use it continuously without interruption.
(2) Two Japanese-style rooms or two Western-style rooms can be used as one big room.
(3) Equipment: ①A set of acoustic devices: 500 yen/set    
②A set of a liquid-crystal projector, etc.: 200 yen/set
(4) Tea utensils: In Kiku-Chrysanthemum Room (Japanese-style room A), a ro (hearth) and a furo (a portable stove)are available while only a furo is available in Asagao-Morning Glory Room (Japanese-style room B).
How to Apply
(1)We accept applications only from those who live, work, or study in Bunkyo City through the "Fumi No Miyako" Facilities Reservation Net. The reception of applications starts from three months (from the 20th of the month) prior to each event
(When there are more applications than the predetermined number, the users will be determined by lot.)
(2) We also accept applications at Shouseikaku. Please come directly to the reception.


---
Six Flowers of Higo (Higo Rokka) 
Each room is named after each of the six flowers of Higo. Higo Rokka is the following six flowers unique to Kumamoto that have been improved through breeding since the Edo period: Higo chrysanthemum, Higo camellia, Higo sasanqua, Higo iris, Higo morning glory, and Higo peony.
Shigekata, the eighth head of the Hosokawa family, began breeding flowers as one of samurai accomplishments. There is a preservation group called Karen for each flower type, whose breeding method has been handed down to the present as secrets of the group. In the Higo Meika Garden in the Take No Maru of Kumamoto Castle, visitors can enjoy these flowers in the corresponding season.  
Moreover, visitors to Shin Edogawa Park can have a chance to see four of the six flowers: Higo camellia, Higo peony, Higo iris, and Higo sasanqua.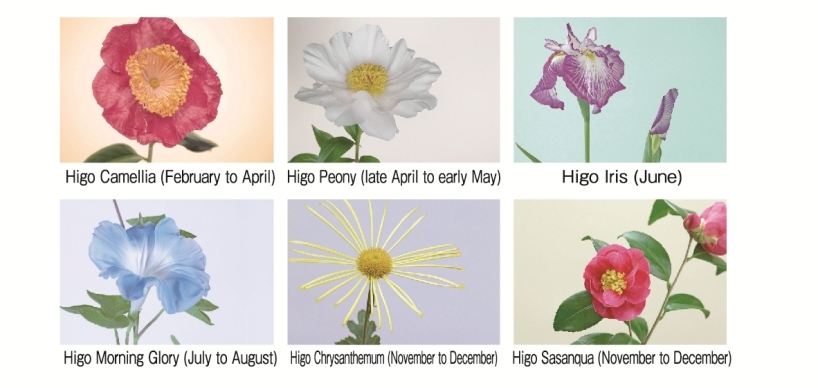 Ryubin Omote
The tatamimats of the alcoves (tokonoma) in Camellia, Chrysanthemum, and Sasanqua rooms are gold in color and larger than ordinary tatami mats. They are made of rush grown in Kumamoto and called Ryubin Omote.
For Ryubin Omote, thick, long, and high-quality rushes are selected, dried in the sunshine, soaked in water and dried again in the sunshine. This process of drying and soaking in water is repeated many times until they become golden. Ryubin Omote not only adds to the beauty of the alcove, but also prevents discoloration over time due to placing a vase. It is the embodiment of ingenious wisdom of predecessors.


---

Shouseikaku has undergone constant remodeling and expansion due to changes in the intended use.It is said that the unique driveway was not there at the time when Shouseikaku was first built, but was added later.Through the improvement work that started in 2014, Shouseikaku was renovated based on the past photos and drawings. According to the past drawings, the rooms of Camellia, Chrysanthemum, and Morning Glory and stairs next to them retain their original features. Since these are valuable features, improvement work was conducted while focusing on their original forms.Moreover, in an effort to use existing logs as much as possible, a traditional ageyamethod was used. In addition, since past photos showed that clapboarding was used, we used it for the exterior wall of the first floor. For lighting, we polished and reused the existing lampshadesin the Iris and Peony rooms. The warped glass, which is not produced any longer, is also reused. Please look for the glass and how it is used!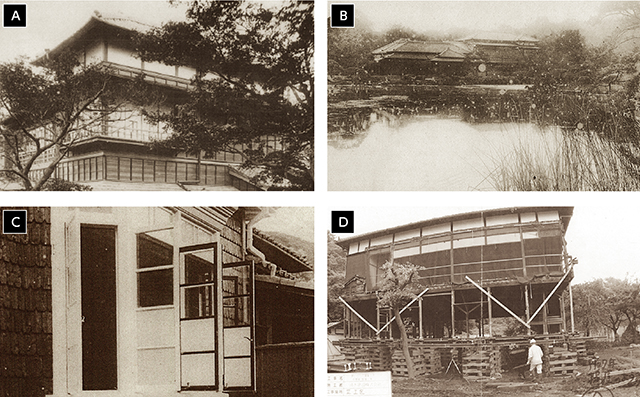 A to C: Shouseikaku around 1926 (Source: Eisei-Bunko Museum) D: Improvement work by the ageya method in 2014
| Period | Changes in Use |
| --- | --- |
| Edo Period | At the end of the Edo period, this place was where a suburban residence of the Hosokawa family was located. The site where Shouseikaku is currently situated is said to be the place where the villa of the Hosokawa family was built. |
| Around 1887 | It is said that Shouseikaku was built as a place of study of the Hosokawa Family. |
| 1892–1893 | The Hosokawa family built its main residence on a plateau in its extensive premises (the site where Mejiro Athletic Park is currently located). |
| 1923 and beyond | Since the main residence of the Hosokawa family was torn down by the Great Kanto earthquake, Shouseikaku seems to have been used as a temporary main residence. |
| 1950 | Part of the premises, including the grounds,where Shin Edogawa Park is currently located, was owned by Seibu Railway Co., Ltd. |
| 1959 | The Tokyo Metropolitan Government purchased and improved the grounds. |
| 1961 | The grounds were opened for the public as a metropolitan park (Shin Edogawa Park). At that time, part of the facilities, such as a lobby, were improved to prepare for the opening to the public. |
| 1975 | The jurisdiction over Shin Edogawa Park was transferred to Bunkyo City. |
| 1990 | The lobby was renovated. |
| 2014 | Improvement work of Shouseikaku started. |
| January 2016 | Opening of the renovated Shouseikaku |
---
■ Notes
・Since this is a historically valuable facility, we ask for your cooperation in protecting it.
・Public nuisances prohibited.
・Doing business in the park, such as the sale of goods, is prohibited.
・No pets are allowed in the park.
・Smoking is not allowed in the park.
・There is no visitor parking in the park.
・Please take your trash home with you.
・Please observe the warning signs and follow staff's instructions.

■CafeLounge Tsubaki
Japanese green tea and sweets are served ( charged).

■Information
・Open(Garden)
Shouseikaku : 9:00 a.m. to 9:00 p.m.Observation floor is open until 5:00 p.m.
Garden : From February to October: 9:00 a.m. to 5:00 p.m. (The last admission is at 4:30 p.m.)
From November to January: 9:00 a.m. to 4:30 p.m. (The last admission is at 4:00 p.m.)
・Closed: From December 28th to January 4th
・Address: 1-1-22, Mejirodai, Bunkyo-ku, Tokyo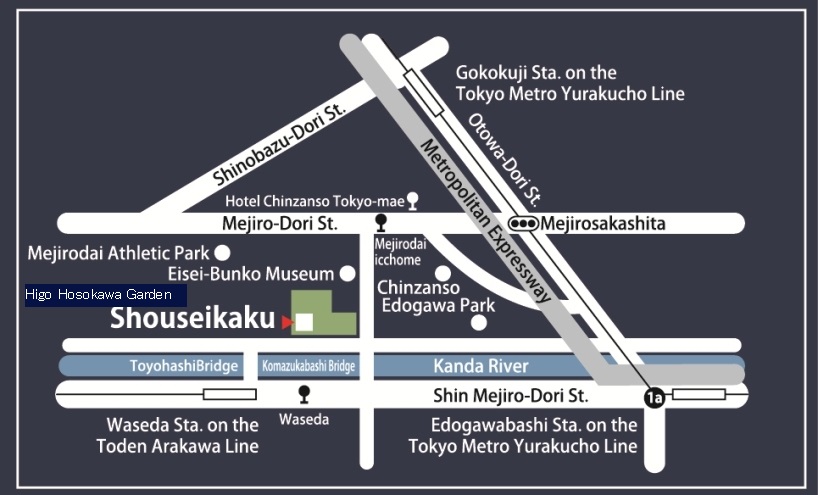 ■Access
[by Subway]
•Tokyo Metro Yurakucho Line: Get off at Edogawabashi Sta.(Y12) (15 minutes on foot from the station).[by Streetcar]
•Toden Arakawa line: Get off at Waseda Sta. (5 minutes on foot from the station).
[by Bus]
•B-guru (community bus): Get off at Mejirodai 1-chome (5 minutes on foot from the bus stop).
•Toei Bus: Get off at Waseda (5 minutes on foot from the bus stop).
•Toei Bus: Get off at Hotel Chinzanso Tokyo-mae (7 minutes on foot from the bus stop).

■Contact Information
Shouseikaku, Higo Hosokawa garden
TEL:03-3941-2010
URL : http://parks.prfj.or.jp/higo-hosokawa/
Designated administrator: Shin Edogawa Park Up Consortium (venture group)

■Introduction of Higo Hosokawa garden here
http://qrtranslator.com/0000001509/000004/EN/test:1

■Mejirodai Sekiguchi of history is here
http://qrtranslator.com/0000001509/000006/EN/test:1