My Number Card facilitates your Immigration Procedure!
Residence Card is a document of personal identification for foreign residents in Japan.
Residence Card is an Individual Identification Card on which the holder's personal information, residence status, presence or absence of employment restriction are printed. Foreign residents are always required to carry this while staying in Japan.
Visit here when you make Online application of Immigration-service-related procedures using My Number Card.
【Immigiration Services Agency of Japan HP】
FRESC introduction video
My Number Card brings you enormous benefits.
Once you get your My Numer Card,
Online Immigration Procedure will be available. 【Immigration Services Agency of Japan HP】

You can receive such certificates as Copy of Residence Registration at convenience stores.

You can get an authenticated vaccination certificate against COVID-19 on your smartphone.
My Number is a 12 digits number which allocated to every residents who has residence registration in Japan.
My Number Card is a photo attached plastic card contains name, date of birth, and gender, which is provided for free of charge on application of each individual.
You can get a Card through a simple procedure!!
You can do it on your own if you have an application form at hand. Municipal office is also accepting application at specially set-up counter on 5th floor of Municipal Office Main Government Building on weekdays. Please avail yourself of this counter which provides supporting services from photo-taking for application form to one-to-one instruction on filling out the form.
【Set-up Counter】
(Open hours)Weekdays from 9:00~17:00
(Place)Special Set-up Booth, 5th floor of Municipal Office Main Government Building
※Accepting applications on weekends and national holidays at satellite counters. Please check here for further details. (in Japanese language only)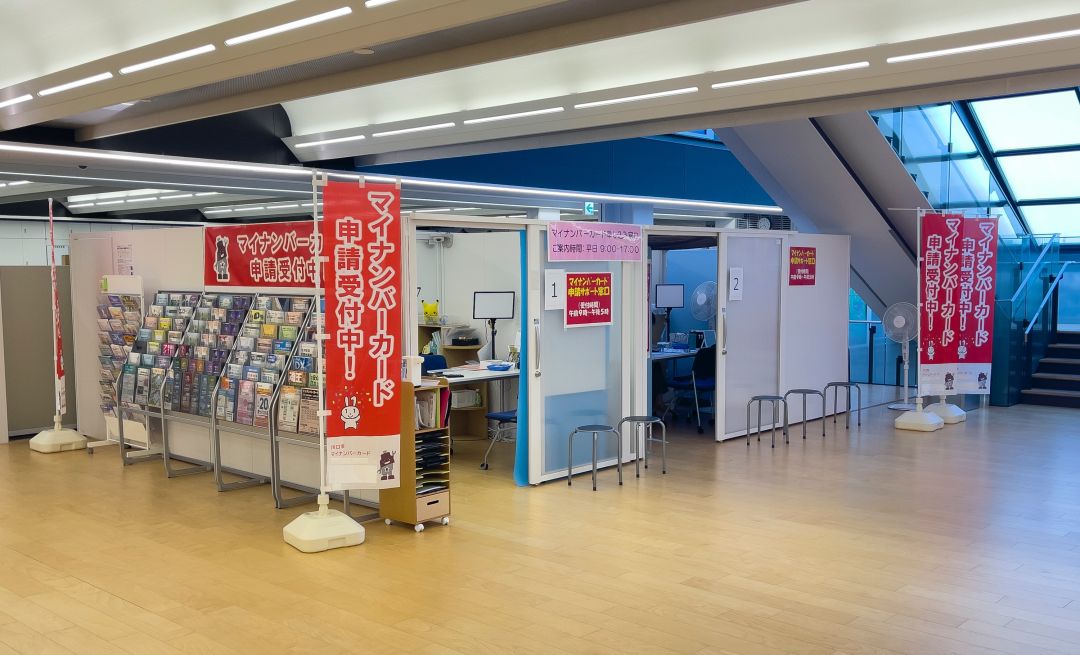 Other enquiries about my number card etc.
My Number General Toll Free Number
(Matters concerning the My Number System, "Notification Card" and "Personal Number Card")
【Japanese language service】
TEL: 0120-95-0178 (free of charge)
Weekdays 9:30 - 20:00
Saturdays, Sundays and public holidays 9.30am - 5.30pm (except year-end and New Year holidays 29 Dec - 3 Jan)
Temporary suspension of card use due to loss or theft of your My Number Card is available 24 hours a day, 365 days a year.
【Foreign language support (English, Chinese, Korean, Spanish, Portuguese)】
For information on the My Number system
TEL: 0120-0178-26
Weekdays 9:30-22:00
Saturdays, Sundays and public holidays 9.30am - 5.30pm (except year-end and New Year holidays 29 Dec - 3 Jan)
For information on "notification cards" and "personal number cards
TEL: 0120-0178-27
24-hour response