Luang Prabang Tourist Map
1. Alms Giving Ceremony, or Sai Bat
2. Tha Heua Mae Market or Morning Market


Tha Heua Mae or Morning Market is located in Pakham Village. It is an outdoor market where Luang Prabang locals trade seasonal products such as vegetables, rice, fish, meat, pork, fruits, and herbs. Ready-made food is also for sale such as Luang Prabang-style food and sweets such as glutinous rice cake steamed in banana leaves (khao tom). If you want to experience the traditional cultural life, this is the perfect place for a stroll to buy or taste Luang Prabang traditional foods.
3. Pasaniyom Traditional Café


This local café is located next to the Mekong River bank behind the Tha Heua Mae market. It serves local food such asrice porridge, noodles, and sweets every morning. The coffee here has its own unique flavor with a traditional recipe and technique that has been passed for generations. It popular among both locals and tourists.
Open from 06:00 a.m. until 12:00 p.m. daily.
4. Vat Mai


Many people refer to this temple as Vat Mai or New Temple since it was built on the grounds of an ancient temple called Vat Si Phoum. The temple was founded in 1796 during the reign of King Anourouth. His son King Manthatourath restored and renamed it Vat Mai Si Souvanna Phoummaram in 1821. This name means that prosperity is like a golden land and remains its name today.
During the Lao New Year Festival, the Phabang Buddha Statue is brought from the Ho Phabang at the Royal Palace National Museum to the temple for three days of ritual cleansing by the populace.
5. Luang Prabang National Museum


The National Museum - Luang Prabang branch, is housed the former Royal Palace of Laos. Construction of the palace began in 1904 and was completed in 1909. It features a blend of Lao traditional and French architectural styles using local materials. The French government built this palace as a gift to the Kingdom of Laos during the reign of King Sisavang Vong as the royal residence. The central spire was modified in 1930 to reflect Luang Prabang's artistic style.
6. Heuan Chan Heritage House


Heuan Chan is a traditional wooden Lao house built in the first decade of the 20th century built by a local official who served at the court. Heuan Chan is a rare, surviving example of a pre-colonial aristocratic residence. Presently, Heuan Chan is a local heritage museum depicting life in Luang Prabang in the early 20th century along with the history of the house.
Take a cooking or flower class and have a drink or meal at the café. To truly step back into time, you can rent traditional attire and take photos in the house or in its beautiful garden.
Open daily from 8:00 a.m. until 4:00 p.m.
The entrance fee is LAK 10,000/person.
Tel: 020 23390126
website: www.facebook.com/HeuanChanHeritageLuangPrabang
7. Phothisack Silver


The silversmiths of Phothisack Silver are the fifth generation of men creating exquisite silver jewelry and artworks for sale. It is the only surviving family of silversmiths that created silver objects including bowls for the upper classes of Luang Prabang including Lao royalty. One of its artisans has been recognized as a national artist in the field of silver handicrafts, and the respected reputation of Photisack Silver ensures that a purchase from here is safe and worthwhile.
8. Lan Xang Handicrafts


Lan Xang Handicraft opened its doors Wat Nong Village in 1997. The shop specializes on Luang Prabang -style goldwork or pak ding, jewelry, lacquerware, traditional clothing, and souvenirs.
9. Khao Khop or Sticky Rice Crackers


Khao Khop or sticky rice crackers are one of Luang Prabang's unique local foods. The crackers are made from sticky rice, the primary foodstuff of Laos. Freshly steamed rice is hand-molded into rimmed discs that are dried and then fried. This method of preparing the rice is especially useful as part of s of Buddhist temples. Take a stroll in Phon Heuang and Xiengthong-Khili Villages to observe families making this specialty.
10. Khao Khiep or Cassava Crackers
Khao Khiep or crackers made from cassava is a local snack popular in Luang Prabang. It is made of cassava or taro mixed with sugar cane juice, eggs. and vegetable oil. The dough is rolled flat like a pancake, dried, and then grilled. Buy some to take home as a souvenir of a Luang Prabang-style snack.
11. Xieng Thong Temple


Xieng Thong Temple is the gem of Luang Prabang, not only for its distinct architecture and adornment but also as the sacred center of the community. Vat Xieng Thong was built in the 16th century by King Setthathirat. The temple received its name from the numerous golden shower trees in the grounds. The mirror mosaics decorating the back of the main chapel and adjacent shrines illustrate religious tales and daily life.
The grounds consist of the main chapel or sim and numerous small buildings that house Buddha images, funeral reliquaries or urns, and a storage building that has become an informal museum. Its façade is decorated with wood carving. Inside, there are Buddhist artefacts to discover.
12. Khao Nom Khii Nuu or Fried Sticky Rice Cookies


Khao Nom Khii Nuu is a sweet that is fried dough made from sticky rice flour, coconut, and sugarcane juice. It is a Luang Prabang specialty. For sale at the Morning Market.
13. Vat Aham and Vat Visoun


Vat Aham or Aham Temple:
Vat Aham or the Temple of Joy was erected in the location where Lan Xang's first king, Fa Ngum, erected the shrine for the kingdom's guardian spirits in the 14th century. The settlement surrounding the shrine was named after it or Ho Seua Muang Village. Statues of Thotsakan or giants guard one side of the temple while statues of monkey deities protect the other end.
The guardian deities of Luang Prabang, Pou Yer and Nya Yer, reside in a wooden building next to Vat Aham's main chapel or sim. They awaken during the Lao new year festivities and carry out rites including walking in a procession from ending at Vat Xieng Thong.
Vat Visoun or Visoun Temple:
Vat Visounnarath, often shortened to Vat Visoun, was named after the king who commissioned it in the early 16th century. The temple was built in the middle of rice fields using more than 4,000 trees in its construction. Twelve pillars support the 30-meter high, two-tiered roof.
The revered Phabang Buddha statue was enshrined here twice, from 1513-1715 and 1839-1894. You can visit this image at the Ho Phabang in the grounds of the National Museum – Luang Prabang. Within the temple grounds are several buildings such as the drum tower and main chapel or sermon hall. The temple's abbot or head monk has his own residence. Kuti are the abodes of monks and novices. A large wall of brick and stucco surrounds part of the grounds.
Phathat Pathoum or Pathat Maakmo:
King Visounnarath's queen sponsored the construction of Phathat Pathoum when the temple was being built. This monument is also called That Dok Bua Luang, but it is commonly known That Maakmo or Watermelon Stupa due to is rounded shape. Its half-dome form was inspired by the Sri Lankan style and is not found anywhere else in Laos. This funerary monument or chedi has a square base, and its apex is in the form of a blooming flower that resembles the flame-like protuberance on top of a Lan Xang-style Buddha statue's head.
When the monument was collapsed in 1914, numerous valuable objects such as gemstones and Buddha statues made of wood, bronze, silver, and gold dating from the from the 15th -16th centuries were discovered. These artefacts are now housed in the National Museum of Luang Prabang.
14. Houa Khon or Khon Masks for Traditional Dance Drama


Khon is a traditional dance drama developed in Southeast Asian courts over 5 centuries ago. The stories told in this traditional performance originate from the Indian epic Ramayana that is called Phralak, Phralam in Lao language, and the performers wear elaborate costume including handmade masks. The characters include deities such as Vishnu, Brahma, and Indra. Phra Lak and Phra Ram are the heroes. Thotsakan, the giant king of demons, is an enemy.
The masks are composed of handmade mulberry paper that are painted to represent the epic's characters. The artisans must be knowledgeable in traditional literature to portray the characters' traits accurately.

This art has declined as the dance drama is rarely performed. Mr. Noy is one of the few surviving khon masks artists of Luang Prabang. He began making khon masks in 1980 under the tutelage of a former master of the court. Visit his shop to view examples of this art and to purchase a mask as a souvenir.
Page top
15. Dara Market


Visit Dara Market to buy handicrafts such as Lao silk and other textiles, silver and gold jewelry, lacquerware, and other products made in Luang Prabang and other parts of Laos.
16. Traditional Arts and Ethnology Center (TAEC)


The Traditional Arts and Ethnology Center is a museum dedicated to the cultural diversity of Laos. The center houses a library and a play area for children. Its shop features handicrafts made by artisans throughout Laos. Your purchase supports producers and the museum. Follow TAEC on social media to learn about events such as lectures and new exhibits.
17. Phou Si or Si Mountain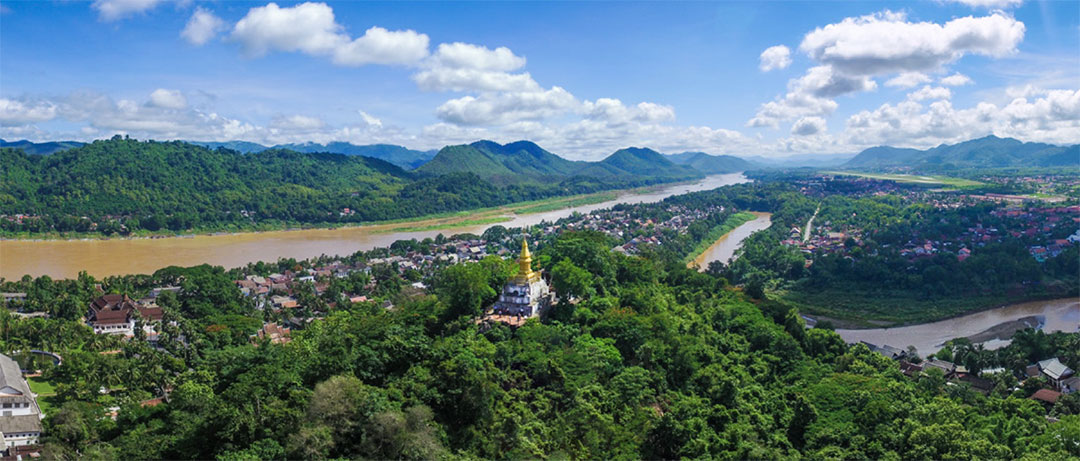 Phou Si or Si Mountain is in the heart of the Historic Peninsula. Climbing to its top is popular spot to enjoy the sunset and panoramic views of the city. Four trails lead to its summit. One opposite the National Museum and another at the back opposite the Nam Khan or Khan River. Less used trails include the one next to Dara Market. The most popular route is in front of the museum. It consists of 328 steps with champa or frangipani trees providing beautiful scenery.
18. Night Market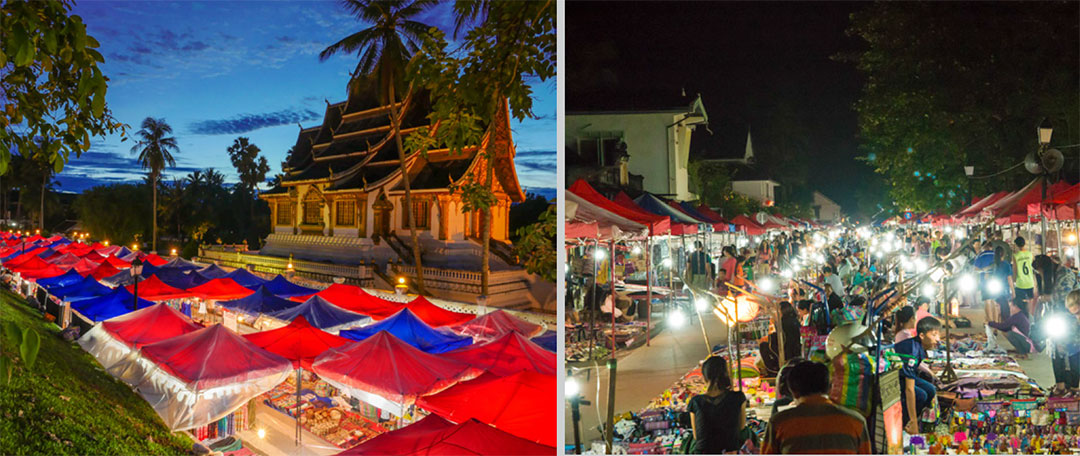 The Luang Prabang Night Market is located in the center of the Historic Peninsula along Sisavangvong Road between the Tourism Information Center and the National Museum. Locals sell ready-to-eat meals and refreshments, handicrafts, and other Made-in-Lao products. Across from the Tourism Information Center is a lively market of cheap eats with occasional live music performances.