Ichinichi Yurari Tabi
Click here for cruise dates and reservations
Only telephone reservations are accepted one month prior to the departure date. (Reservations Only)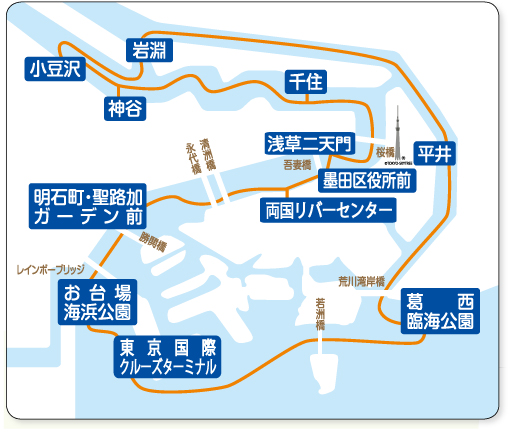 * Services may be canceled or courses changed due to weather conditions, tide levels or other reasons,
 so make sure you check the timetable before making your reservation.
* Seats cannot be reserved, so there may be cases in which it is not possible to sit. Please take note of this in advance.
* There are no shops or restaurants on board. Please Bring your own food if you wish to eat.
* Wheelchair users are requested to contact us before boarding.
* Smoking is not permitted on board.
* No group rowdiness or other such behavior that may interfere with other passengers' enjoyment is permitted onboard. Note that there may be cases in which passengers are warned or requested to disembark if they inconvenience other people.
Tokyo Metropolitan Park Association
Tokyo Mizube Cruising Line
TEL: 03-5608-8869
Service hours
Does not operate on Mondays (or the day after if Monday is a national holiday)