Asakusa-Odaiba Cruise
Tour of Sumida River and Odaiba. From Asakusa, go through the Rainbow Bridge to Odaiba.
You can see Tokyo Sky Tree® around Asakusa and Senbonzakura in Sumida Park in the spring.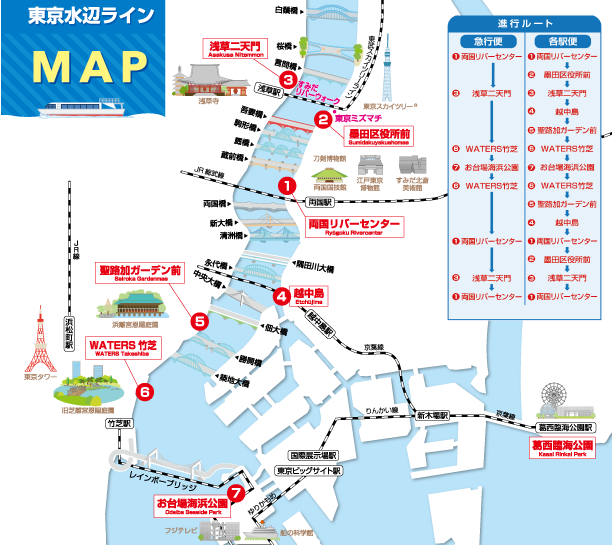 ・ The display is the general fare for one adult.
・ The fare in parentheses is the general fare for one child.
・ Preschoolers are free of charge for each adult with a general fare.
(Elementary school fare will be charged from the second person)
・ Please purchase tickets at each ticket office.
(Purchased on board at unmanned landing)
When boarding, please be sure to check the flight status from "Today's flight schedule" on the day.
Cancellations and course changes may occur due to weather, tide level, etc.
The departure / arrival numbers ① to ⑦ on the map correspond to the departure / arrival numbers in the timetable / fare table.
Express flights operate mainly at the orange departure and arrival points.
Pets (dogs, cats, etc.) cannot be brought in even if they are in a pet carry.
If you are using a wheelchair, please contact us in advance.
Smoking is prohibited on board.
Only groups of 15 or more adults can make reservations from 6 months before use.
Tokyo Metropolitan Park Association
Tokyo Mizube Cruising Line
TEL: 03-5608-8869
Service hours
Does not operate on Mondays (or the day after if Monday is a national holiday)