Discount coupons

Discount coupons
Iwashimizu Hachimangu
Offer Info.
Pigeon strap
Hours
8:30 AM - 6:00 PM (hours may vary)
Closure Info
Open Daily
Address
30 Yawatakabo, Yawata, Kyoto
Shop Information
Located at the top of Mt. Otoko, Iwashimizu Hachimangu is one of the Three Great Hachiman Shrines. It was built in the early Heian Period when the deity enshrined at Usa Hachiman Shrine in Oita was split and re-enshrined in Kyoto. The name of the shrine comes from a sacred spring called Iwashimizu, which still exists on Mt. Otoko. It's said that there was once a temple called Iwashimizu-ji near this spring. The god Hachiman has long been worshiped for being able to ward off evil, so the shrine is one of the leading shrines nation-wide to visit for yakuyoke (warding off evil) and welcomes many worshipers year-round.
Gekkeikan Okura Sake Museum
Offer Info.
Free Postcard
Hours
9:30 AM - 4:30 PM (Last admission: 4:15 PM)
Closure Info
Closed Aug. 13 - 16 and Dec. 28 - Jan 4
Address
247 Minamihamacho, Fushimi Ward, Kyoto
Shop Information
Home to a number of old sake making tools that are registered as Kyoto City Tangible Folk Assets, the museum has a number of displays about the sake culture of the Fushimi area. Using materials relating to Gekkeikan's history as well as recordings of brewers' chants, the museum recreates the atmosphere of an old sake warehouse. After touring the museum, guests can enjoy tasting some of Gekkeikan's sakes.
Kodaiji
Offer Info.
Admission for group admission price (not applicable to those high school age or younger)
Hours
9:00 AM 5:30 PM (last admission: 5:00 PM)
Closure Info
Open Daily
Address
526 Shimokawaramachi, Higashiyama Ward, Kyoto
Shop Information
Officially called Kodai Jushozen-ji, it was established in 1606 by Kita no Mandokoro (Nene), Hideyoshi Toyotomi's widow, in order to pray for her late husband. In 1624 the temple became part of Kenninji and was renamed Kodaiji. Many of the original structures have been destroyed in fires, but the current buildings include Kaisando, Otamaya, Kasatei, Shiguretei, Omotemon, and Kangetsudai, all of which are designated by the Japanese government as important cultural properties.
Shimogamo Shrine
Offer Info.
Group Rate Admission Fee Service
Hours
10:00 AM - 4:00 PM
Closure Info
Varies
Address
59 Shimogamo Izumigawacho, Sakyo Ward, Kyoto
Shop Information
Officially called Kamomioya Shrine, Shimogamo Shrine is one of the oldest shrines in Kyoto. The shrine became an important place of worship during the building of the capital at Heian. In December 1994 the shrine was registered as a UNESCO World Heritage Site. The Aoi Matsuri, one of Kyoto's Three Great Festivals, features a large parade with people in imperial court dress and is hosted by Shimogamo Shrine and Kamigamo Shrine each year on May 15.
Byodoin
Offer Info.
2 free postcards
Hours
8:30 AM - 5:30 PM
Closure Info
Open Daily
Address
116 Uji Renge, Uji, Kyoto
Shop Information
Byodoin was established in 1052 when Fujiwara no Yorimichi turned his father Michinaga's villa into a temple. The Phoenix Hall was built the following year, and a statue of Amida made by Jocho was enshrined in the hall. The phoenix statues on the roof and the paintings, canopy, and Bodhisattva sculptures are all not to be missed. In front of the Phoenix Hall is a beautiful garden designed around a central pond. The hall and garden along with the Uji River and surrounding mountains are said to be a representation of the Buddhist Pure Land. In 1994 the temple was registered as a UNESCO World Heritage site along with Ujigami Shrine.
Osaka Suijo Bus
Offer Info.
10% Off Aqualiner Tour Boarding Fees
Hours

11:00~16:15

*May change depending on season

TEL
06-6942-5511
Shop Information

The Osaka Suijo Bus is a crusie that will let you experience the city of Osaka from a different perspective.

There entrances to the boats in four locations near the station (Yodoyabashi Port/Hachikenyahama Port/Osaka Castle Port/OAP Port). Enjoy a stroll across the Osakan waters.
Osaka Castle Museum
Offer Info.
Entrance Fee for adults 600 Yen→540 Yen
Hours
9:00 AM - 5:00 PM (Last admission: 4:30 PM)
Closure Info
Open Daily (December 28–January 1)
Address
1-1, Osakajo, Chuo-ku, Osaka
Shop Information

Osaka Castle was built by (the Warring States warlord) Hideyoshi as his stronghold from which he unified Japan.

The castle was reconstructed by the Tokugawa shogunate after they conquered it in the Summer War of Osaka and the stone walls and old buildings are still preserved on the grounds. The present-day Main Tower in the center is the third generation, after Toyotomi and Tokugawa, rebuilt in 1931 using donations from the city's residents. The insides of the Main Tower is now used as a Museum where you can learn about Hideyoshi's life and the history of Osaka Castle through large amounts of original documents, visual media, and models.
Miidera Onjo-ji Temple
Offer Info.
Temple Entrance Fee Group Price
Hours
8:00 AM–5:00 PM
Closure Info
Open Daily
Address
246 Onjoji-cho, Otsu, Shiga
Shop Information

Officially called Nagarayama Onjo-ji, Miidera is the head temple of the Tendaijimon Buddhist sect.

Other than housing hundreds of Japan's national treasures and important cultural artifacts, it is also home to numerous statues of Buddhist deities other than the principal deity.

Additionally, the temple bell, colloquailly known as the "Evening bell at Miidera", is famous as one of the 8 views of Omi.
Biwako Kisen Steamship
Offer Info.
Michigan Cruise South Shore Tourist Boat Passenger Fare 20% Off
Hours
9:00 AM–5:00 PM
Closure Info
Open Daily
Address
5-1-1 Hamaotsu, Otsu-shi, Shiga
Shop Information

Michigan is a paddle steamer that goes around the southern shores of Lake Biwa. There are also musical events held inside the ship which is themed after the good old days of America.

The spectacular views of the mountains wrapping Lake Biwa and the natural beauty nurtured by the abundance of the lake has been preserved well.

Other than light snacks, you can also enjoy a variety of food at the reservation-only buffet restaurant on board.
Discount Tickets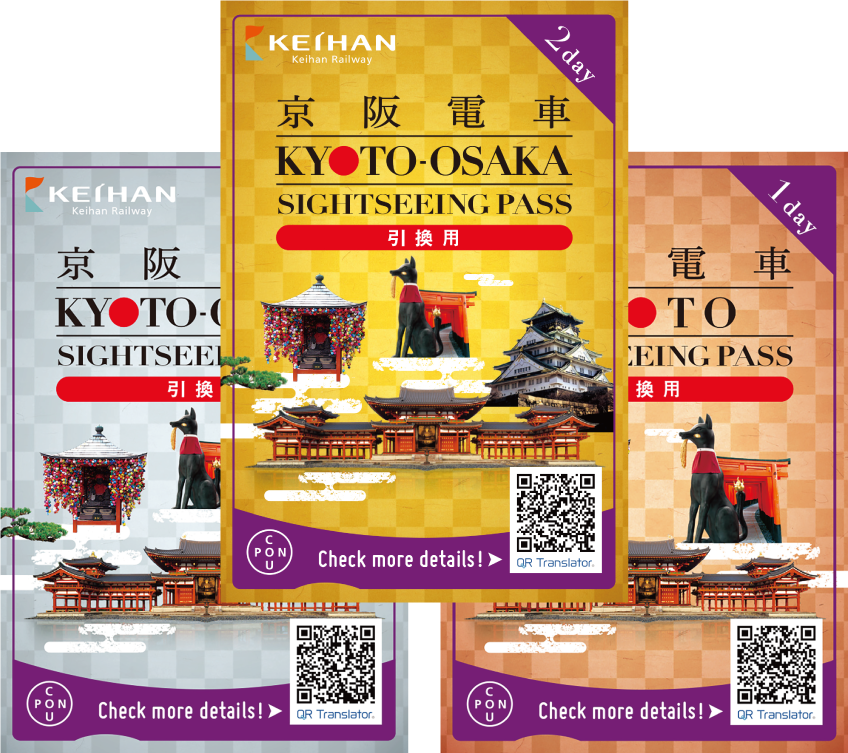 When using Keihan Electric Railway, passes for visitors to Japan are a convenient way to get around. Not only do you get unlimited rides on Kyoto and Osaka lines, the passes come with a number of other benefits. For travel in Osaka and Kyoto, these passes are indispensable!