KYOTO BY THE SEA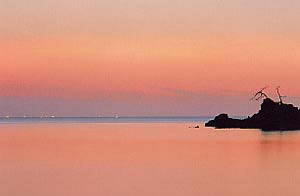 YOSANO
The northern part of Kyoto Prefecture is nestled amongst mountains of the likes of the Oheyama Peaks. Fertile plains fill the Noda River basin that extends all the way to the Aso Sea where the views of scenic landscapes and Amanohashidate are breathtaking.
 The area is enveloped in seasonal beauty with tender greens in spring, herbs and sunflowers in summer and golden ears of rice and autumnal tints in the fall, and flowing rivers and wondrous seascapes throughout the year.
 Long ago, Kaya prospered as a gateway for culture from mainland Asia. Even before that, it was home to early settlements in Japan's long history, which can be enjoyed from a historic park built around the Ebisuyama and Sakuyama Tumuli. A stroll down the Chirimen-kaido Byway in the old quarter of the town introduces the visitor to the local weaving trade via the sound of working looms.
AMA NO HASHIDATE
This 3.6 km long sandbar stretches north-south dividing Miyazu Bay and the Aso Sea. It's name comes from its appearance as a bridge to heaven.

MOVIE
(AMA NO HASHIDATE) http://www.rekishikaido.gr.jp/heritage/course/movie-en/Ama-no-hashidate.html
(YOSANO) http://www.rekishikaido.gr.jp/heritage/course/movie-en/Kaya.html
(YOSANO)
(FUKUCHIYAMA)Pamphlet