Oda Lantern Festival / Fire festival in Teramura
Colorful fireworks are lighting up the summer night sky above the 3 huge Japanese characters of "Mountain God" written in fire. / Fire festival in Teramura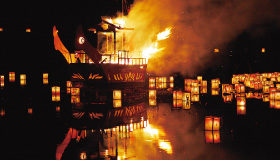 A fantastic spectacle that spreads over the river / Oda Lantern Festival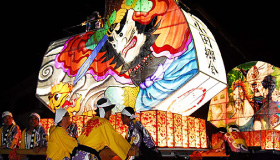 Town parade with beautiful picture lanterns / Oda Lantern Festival
Colorful fireworks are lighting up the summer night sky above the 3 huge Japanese characters of "Mountain God" written in fire. / Fire festival in Teramura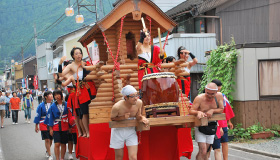 To the sound of drums log-style festival floats stir up the excitement
Summer festival for memorial services to the ancestors in relation to the legend of fugitives of the Heike clan. The parade through the shopping mall with oxcarts, log-style floats with Taiko drums, painted lantern floats and dance troupes etc., will tell the coming of summer. Over 1000 beautifully illuminated lanterns floating on the Oda River is a spectacular sight. The chanting of the memorial service by Seijoji Temple priests resounds in the mountain village and leaves a deep impression of nostalgia.The Seijoji temple has the legend of Princes Toki and the plum tree. She was the fifth daughter of Taira-no-Kiyomori (head of the Heike clan who once ruled Japan in 12th century). After the defeat of the war, she escaped to this land but died of disease soon. The villagers built a tomb at the site and held a memorial service. At this time, plum trees that they planted together grew up, and were named "Hachibo plum tree" from the fact that several plums were always formed together.
---
Please watch how the words "Mountain God" emerge, written in fire.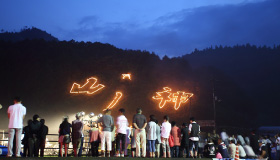 This beautiful tradition of worshipping the gods continues till today since Edo era
At the Teramura Mountain God Fire Festival about 5000 torches are lit at the base of Mt. Rokkaku so that the words "Mountain God" emerge, written in fire. This traditional event has been continued since 1823, to pray for "fortunes from the mountains" (wild game, berries, mushrooms etc.) and rich harvest. The fireworks in the mountain hamlets beautifully coloring the night sky - unforgettable summer memories. In the shopping district there are long rows of night stalls, performances of the drum group Kikori, and many other live performances. There is also a photo contest to which you can apply.
- Events information -
Oda Lantern Festival
Date
Last Saturday in July 18:00 to 22:00 in case of rain on the next day
Entry fee
Free
Access
30 min by car from JR Uchiko Station
30 min by car from Uchiko-Ikazaki IC.
Place
Oda, Uchiko-cho Oda Chuo Shopping street
Contact
Town office, Oda branch TEL 0892-52-3111
Parking
Parking Available / in several places for ca. 200 cars - free of charge
Fire festival in Teramura
Date
Aug. 5 every year
18:00 to 22:00 in case of rain on the next day
Entry fee
Free
Access
30 min by car from JR Uchiko Station
30 min by car from Uchiko Ikazaki IC.
Place
Teramura, Uchiko-cho Teramura shopping area
Contact
Uchiko Town Office Oda BranchTEL: 0892-52-3111
Parking
Parking Available / in several places for ca. 550 cars - free of charge
---
---
Festivals, events
Spring March to May
Summer June to August
Autumn September to November
---
Uchiko in Photos
---
---
Uchiko town official website