Uchiko Sasa festival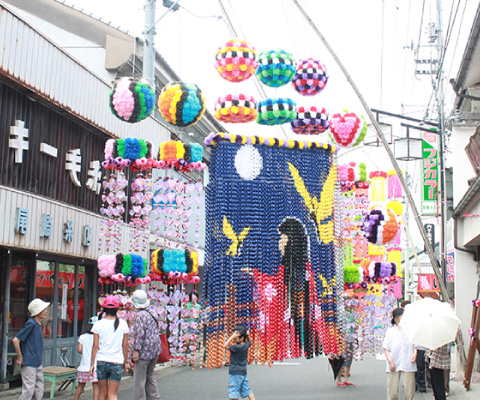 Colorful Tanabata decorations on long bamboo poles in the Honmachi shopping district.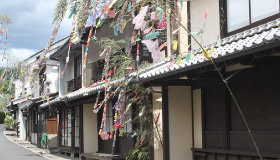 The Tanabata Star festival is a big downtown event with a long tradition.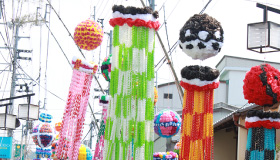 Beautiful Sasa bamboo grass decorations made with great effort and care.
The colorful Sasa decorations, all made by hand, adorn the streets in summer.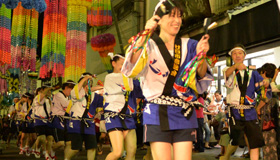 As much as 30 Dance Troupes stir up the festival.
In this annual summer event about 70 huge decorated bamboo poles embellish the shopping district. Big decorative paper balls, with loops underneath from which large, bead curtain like banners drop, produce a glamorous backdrop for the festival. The festival in the pedestrian mall lasts 3 days with exciting parades under luxurious bamboo decorations and in the night of the second day the popular "Sasa dance contest" is held. There are also events, such as sumo tournaments and photo competitions. It has been selected as one of the "Ehime top 50 festivals" over 20,000 people come every year.
- Events information -
Uchiko Sasa festival
Date
August 6~8 (Rain or shine)
Entry fee
Free
Access
10 min walking from JR Uchiko Station
3 min by car from Uchiko-Ikazaki IC.
Place
Uchiko, Uchiko-cho Honmachi shopping district
Contact
Uchiko Sasa festival Committee TEL 0893-44-2066
Parking
Parking Available / in several places for ca. 500 cars - free of charge
---
---
Festivals, events
Spring March to May
Summer June to August
Autumn September to November
---
Uchiko in Photos
---
---
Uchiko town official website