Kawanobori River Festival / Rafting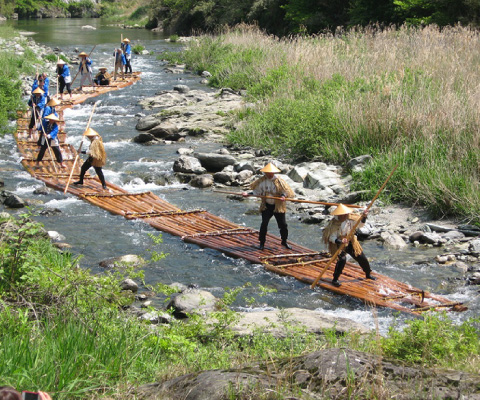 Spectacular scenery of rafters skillfully steering down the rapids.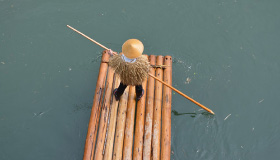 The nostalgic presence of rafters with straw raincoats and Sedge straw hats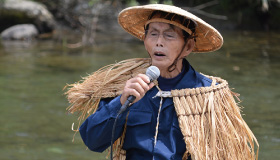 The special "Odagawa rafting song"
By the enthusiasm of the local people, rafts are again floating down the Oda River!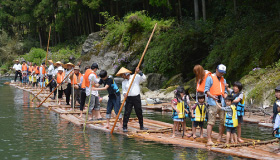 Riding on a raft is an unforgettable experience.
From the late Edo period until the 1945's, you could often see timber brought down from the mountains on the Oda River by "rafting". The wood was carried with so called "Komata" rafts, made from joining 10 roundwood logs of 4m length, to Nagahama at the mouth of the river. However, after building a forest road from the mountains in 1948, the timber got transported by trucks, and rafts were no longer used.
It took 45 years until local residents, trying to revive former scenes with floating rafts, started to organize a yearly "rafting" event. Now many people come to watch the rafters in their traditional raincoats and straw hats standing on the long line of 10 or more connected rafts, going downstream by skillfully handling the rapid flow. At the occasion, local women are treating visitors to the specialty "Tarai Udon" served in a broth made from soybeans and shiitake mushroom.
- Events information -
Kawanobori River Festival / Rafting
Date
The 4th Sunday in April
Entry fee
Free
Access
20 min by car from JR Uchiko Station
20 min by car from Uchiko-Ikazaki IC.
Place
Ōse, Uchiko-cho Kawanobori district
Contact
Ōse Community Center TEL 0893-47-0102
Parking
Parking Available / 50 car capacity(Free)
---
---
Festivals, events
Spring March to May
Summer June to August
Autumn September to November
---
Uchiko in Photos
---
---
Uchiko town official website