Ōzu Washi (Tenjin Japanese Paper Factory)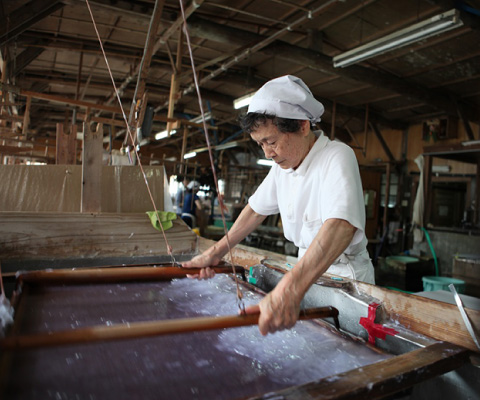 Making high-quality "Washi" (Japanese paper) requires great skill of the craftsman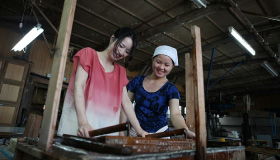 Papermaking is fascinating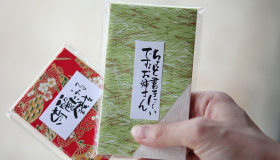 Here you can buy lovely paper presents at a good price
Even now "Washi" (Japanese paper) is produced according to the old tradition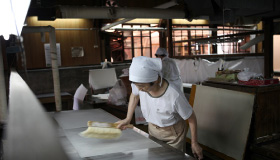 Each paper making process step is done by hand with great care.
Using the clear water of the Oda River, Washi is made by the traditional technique of "Nagashi-zuki" (scoop & drain). "Ōzu Washi" is said to have been manufactured since the Heian era (794-1185) and still now local traditional craftsmen make it carefully by hand. It is used for calligraphy paper, shoji sliding door screens, etc. but also for special application like for the Ikazaki Kite Battle kites. In the workshop you can watch the papermaking process or learn how to make Washi by yourself. Since craftsmen will take you by the hand, even beginners will be able to make authentic Washi paper. In the Ōzu Washi Hall on the site you can buy cute notepads and other accessories. Especially the Shodo-hanshi calligraphy paper is of high quality and very popular. Traditional handicrafts established the high grade "Washi" brand
---
The calligraphy paper favored among professionals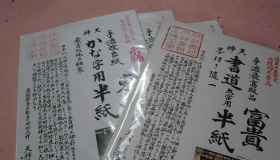 Ōzu Japanese paper is thin and also strong, and has a good reputation for its evenness.
Ōzu calligraphy paper has become the favorite for calligraphers in Japan. It is also being used as Shoji paper in temples, tea houses or exclusive residential buildings and established itself as Japanese paper of highest quality. This product was made possible through the traditional high quality craftsmanship by a technology handed down through the centuries.
- Additional information -
Ōzu Washi (Tenjin Japanese Paper Factory)
Address
1240-1 Hiraoka, Uchiko-cho, Kita-gun, Ehime, Japan
TEL
0893-44-2002
Closed
[Tenjin Japanese Paper Factory, Papermaking]Sat., Sun. and holidays

[Tenjin Japanese Paper Factory, Papermaking, Ōzu Washi Kaikan - Japanese Paper Shop]Bon(12-17 Aug.), New Year holidays(26 Dec. - 5 Jan.)
Opening hours
[Tenjin Japanese Paper Factory, Papermaking, Ōzu Washi Kaikan - Japanese Paper Shop]8:30-16:30(weekdays)

[Ōzu Washi Kaikan - Japanese Paper Shop]9:00-16:30(Sat., Sun. and holidays)
Parking
Parking Available / 20 car capacity(Free)
Admission
[Workshop tour]Free

[Papermaking(reservation required)]500 yen, Stationery 350 yen -
---
---
Uchiko-town suburban area
---
The Uchiko Stroll
---
---
Uchiko town official website