Covered Bridge (Tamaru Bridge / Arched bridge of Yuge Shrine)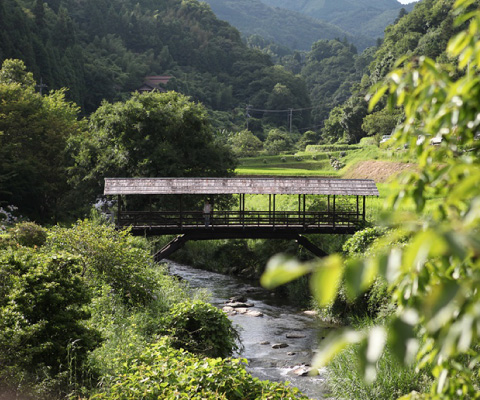 It is said, that once the Fumoto River was crossed by as many as 10 Covered Bridges.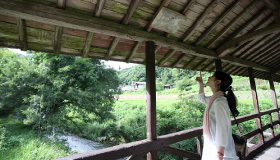 The "Tamaru Bridge" also has been used as storage place for crops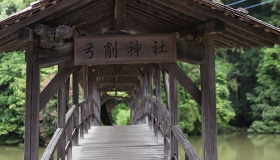 This bridge is the access to the Yuge Shrine
The covered bridge in an idyllic mountain scenery (Tamaru Bridge)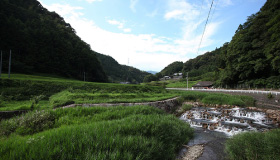 For protection of the natural landscape, weirs have been built
The Tamaru Bridge is one of 5 covered bridges in Uchiko. With its authentic cedar bark roof the bridge across the Fumoto River blends well into the idyllic landscape. The roof was actually built to make the bridge last longer, but as time went by it got used for temporary storage of the local harvest or as a shady meeting place for the community. It is a designated Tangible Folk Cultural Property of Uchiko. As rural landscape of that time, this place was chosen as the location for the drama "Clouds Above the Hill".
---
Over the Covered Bridge to the Yuge Shrine amid beautiful flowers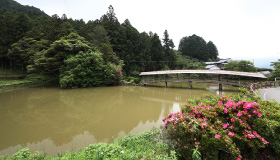 The Covered Bridge has Japanese chestnut log piers and is roofed with cedar bark shingles.
The Yuge shrine was reportedly built in the Muromachi era (1336–1573). The covered bridge across the Yuge pond that surrounds the shrine is known as "Arched Bridge". The reflection of the bridge in the pond contributes to the picturesque scenery, and the whole area became a popular tourist area. The bridge serves as approach to the shrine, and the parishioners still continue the local "Himairi-shinko" custom of praying every day alternatively for good harvest. In spring plum and cherry trees blossom and in early summer irises continue to color the area.
- Additional information -
Tamaru Bridge
| | |
| --- | --- |
| Address | Kawanouchi, Uchiko-cho, Kita-gun, Ehime, Japan |
| TEL | 0893-44-3790(Uchiko Town Visitors Center ) |
Arched bridge of Yuge Shrine
Address
Ishidatami-higashi, Uchiko-cho, Kita-gun, Ehime, Japan
TEL
0893-44-3790

(Uchiko Town Visitors Center )
---
---
Uchiko-town suburban area
Terraced Rice Fields of Izumidani
Covered Bridge(Tamaru Bridge / Arched bridge of Yuge Shrine)
---
Uchiko Sampo
---
---
Uchiko town official website
http://www.we-love-uchiko.jp/