National Important Cultural Asset Uchiko-za Theatre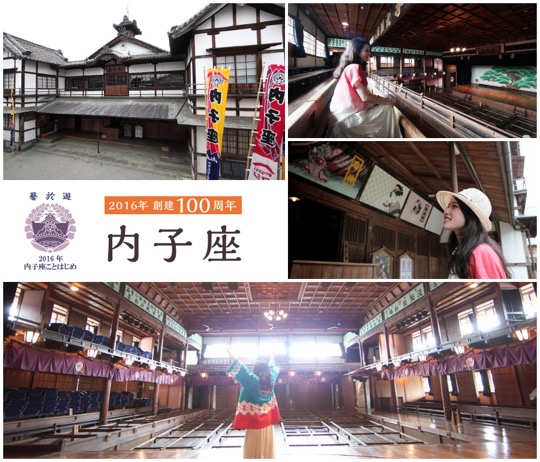 100 year jubilee in 2016
Uchiko-za theater history
This prestigious old theater & playhouse from the Taisho era (1912 - 1926) is again in operation.
The Uchiko-za theater was built in 1916 to celebrate the enthronement of Emperor Taisho. The wooden two-story building with a shingle covered Dutch gable roof, was built as a full-fledged theater and playhouse of pure Japanese style. With a revolving stage, a runway next to the audience, seating boxes, actors' dressing rooms, etc., this impressive building represented the technological and artistic state of the art at that time.
Some time ago it was to be demolished due to the poor state, but by the determination of local residents it could be saved and repaired. After restoration work was completed in 1985, it has been re-opened as a theater. Now it is actively used as a playhouse for various cultural activities of the town and surrounding area.
Uchiko-za Event calendar
On certain days the theater may not be accessible for visitors due to performances, please check the calendar here.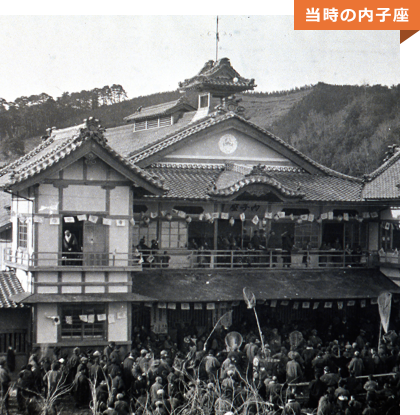 Uchiko-za theater at the time
Inauguration with a puppet theater performance
There was not much entertainment at that time, so performances at the Uchiko-za theater were eagerly looked forward to. It is said, that to the first inaugural performance people came with lunch boxes, alcohol and snacks and it was a great success.
The Uchiko-za theater at a glance
In Uchiko-za you can actually walk on the runway, stand on the stage, or go down to the understage to see the intriguing setup under the stage. Please come and have a look at this authentic theater of old times.
1. Suppon (runway elevator)
A small stage elevator of the Hanamichi-runway at the location "Shichi-san" (3/7th of the runway closer to the stage). Used for making monsters, demons or ghosts magically appear or disappear. Or in some cases for letting smoke come out the Suppon.
2. Kuro-misu (hidden room)
Musicians room behind bamboo blinds on the left side of the stage. Vertical openings allow the Geza (off-stage musicians) to follow the progress on the stage in order to play in accordance with it. Musical instruments such as shamisen, drums, etc., are also used to mimic the sounds of wind and rain as required in the repertoire.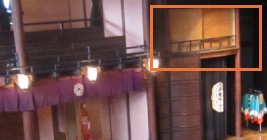 3. Mawari-butai (revolving stage)
A big circular floor area at the stage center, which can be rotated by a dedicated stage mechanism. An indispensable device for Kabuki performances that enables to perform a scene change in front of the audience's eyes. Such scene changes are visually very appealing. It is said that invention of this mechanism was inspired by a Koma (spinning top).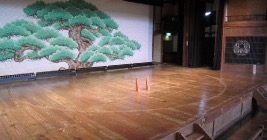 4. Hanamichi (flower path - runway)
A runway on the Shimote (left side of the stage as viewed from the audience). It is at the same height as the stage and runs along the box seats, so that the actors pass by very close and are able to interact with the audience. The runway is an indispensable feature of Kabuki plays. So when stage favourites "assume a pose" or do other special movements the audience is getting very excited.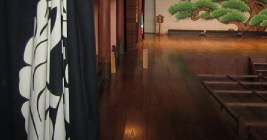 5. Masuseki (box seats)
Japanese kabuki and puppet theaters traditionally are equipped with a box style seating arrangement. The dirt or wooden plank floor is partitioned into square seating areas by a wooden framework. Since one square area was offered as "Hito-masu" (1 box), the squares are called "Masu-seki" or box seats.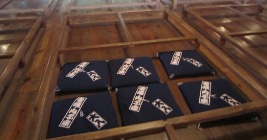 6. Gidayu-seki (reciting seat)
In a Ningyo-joruri (traditional puppet theater) the dialogues and descriptions of situations in a Gidayu-bushi (ballad drama) are recited by a Tayu (reciter/chanter). Later popular Ningyo-joruri puppet plays were transformed for the Kabuki stage and called Gidayu-plays. The reciter has a special place on the Kamite (right side of the stage as viewed from the audience) called Gidayu-seki (reciting seat)·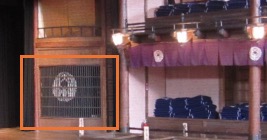 Ōmuko
Relatively low priced seats for the audience, located on the second floor. These seats are mostly used by regular visitors or theater connoisseurs, and from there you can often hear the ooh and aah (of admiration), which is called "Ōmuko-o-unaraseru" (excellent job).

From the 2nd floor you can overlook the whole theater!
Understage(Naraku)
The space below the stage and runway is called "Naraku" (hell). At the time when the revolving stage and elevator have been moved by human power, it was a very dark and damp place reminiscent of hell. Therefore it came to be called "Naraku", which means hell.
In Uchiko-za you even can go to "hell", just check it out! That for sure will be interesting!
Enjoying Bunraku in Uchiko-za
There are regular performances every year in August, a good opportunity to get familiar with Japan's excellent traditional culture. Now, Bunraku fans come from all across the country and love to see these summer performances at Uchiko-za, which have become an indispensable tradition.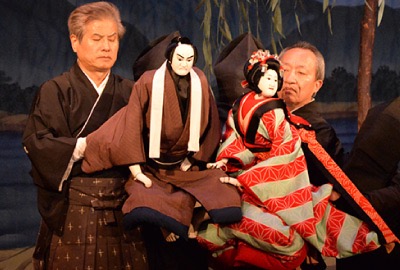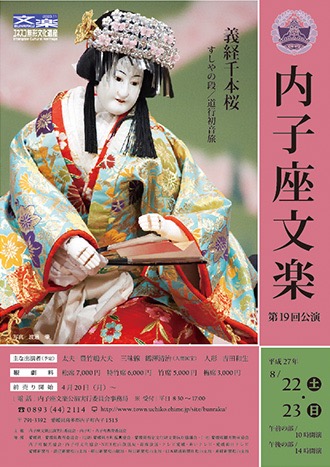 Uchiko-za Bunraku leaflet of the year 2015
Recommended Souvenirs!
Uchiko-za Monaka
At the traditional sweet shop "Oomoto-seika-ho" near Uchiko-za you can still feel that bygone era. A typical Japanese confectionary unchanged as it was long time ago, with a rich assortment of classical sweets and seasonal cakes. The "Uchiko-za Monaka", filled with handmade red bean paste is a delicious masterpiece. The moderate sweetness of the Azuki bean paste is indescribably.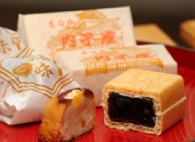 Uchiko-za Monaka
10 pcs 1,200 yen
20 pcs 2,400 yen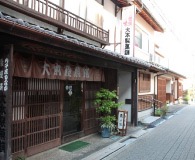 Just next to the Uchiko-za theater
Ōmoto Confectionery
Kyohina Uchiko-za (Sakaroku brewery)
Special label for the popular "Kyohina-josen" (-premium) Sake rice wine. The small bottle is also ideal as a souvenir. Please drink cold (room temperature) or hot together with your meal.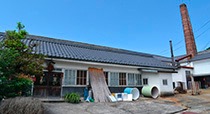 3 min walk from Uchiko-za "Sakaroku brewing"
Price
1800ml 1,868 yen(exclusive tax)
720ml 870 yen(exclusive tax)
300ml 480 yen(exclusive tax)
- - Tourist attraction information - -
National Important Cultural Asset Uchiko-za Theatre
Address
2102 Uchiko, Uchiko-cho, Kita-gun
TEL
0893-44-2840
Closed

New Year holidays (29 Dec – 2 Jan.)

Opening hours
9:00 to 16:30
Parking
7 car capacity (free)
Admission
Adult: 400 yen, Children 6 to 15 years old: 200 yen, Infant: Free / Adult: 300 yen, Children 6 to 15 years old: 160 yen / * Groups with more than 20 people.
Set ticket: Valid for Japanese Wax Museum & Kamihaga Residence, Uchiko-za Theater, Museum of Commercial & Domestic Life
---
---
Uchiko center area
---
The Uchiko Stroll
---
---
Uchiko town official website