Walking trails
on foot - standard course 1
Half-day course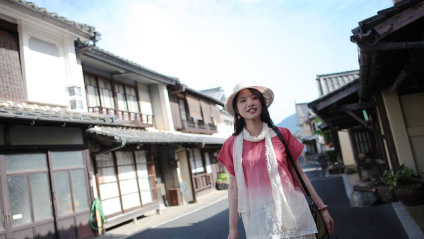 Course for leisurely walking around to see popular tourist spots
Course for comfortably exploring the old town, as a kind of time leap into the Meiji era.
Please get a good taste of Uchiko's charm by going around the popular sightseeing spots and shops.
You may find them somewhere!?
Interesting designs hidden in the streets

Crane in a Gegyo (pediment decoration)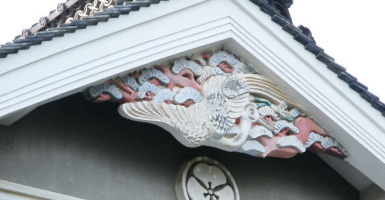 Onigawara tile (devils face roof tile) depicting Kabo Jizo (Buddha preventing house fire)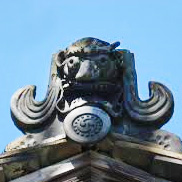 Uchiko-za theater welcoming fox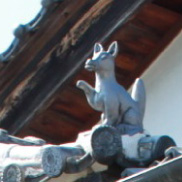 Good deal!
Set tickets for 3 traditional culture facilities at a bargain price
Japan wax museum & Kamihaga Residence, Museum of Commercial & Domestic Life, Uchiko-za Theater: For those who visit 3 facilities the set ticket is a bargain.


Japanese wax museum & Kamihaga Residence Admission ticket
Adult: 500 yen, children: 250 yen (Group: Adults 380 yen, children 200 yen)

Museum of Commercial & Domestic Life Admission ticket
Adult: 200 yen, children: 100 yen (Group: Adults 150 yen, children 80 yen)

Uchiko-za Theater Admission ticket
Adult: 400 yen, children: 200 yen (Group: Adults 300 yen, children 160 yen)

Set ticket
Adult: 900 yen, children: 450 yen (Group: Adults 720 yen, children 400 yen)


---
on foot & by car - standard course 2
1 day course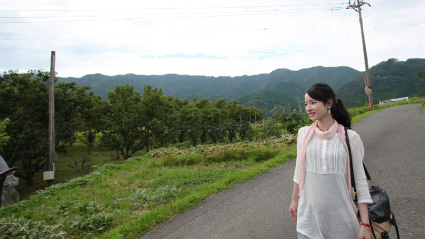 From rural villages to the townscape scenery A course you can fully enjoy
After going around small villages in the outskirts, complete the course by exploring the town.
Visit the traditional buildings, see the original scenery in the forests nearby and please enjoy the local flavor!
Do not miss here!
Scenic spots to meet the original landscape of the woodlands
Covered Bridge(Tamaru-bashi)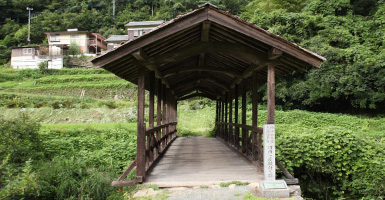 Watermill(Ishidatami-Seiryu-en Park)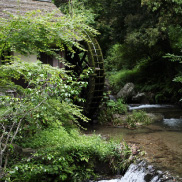 Weeping cherry trees(Designated natural monument of Ehime prefecture)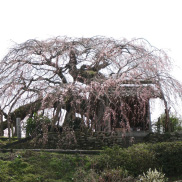 Limited to 100 servings per day
Soba of local ingredients freshly made from dough is delicious!
This restaurant is proud for their "freshly ground, kneaded and boiled Soba". The locally grown buckwheat is ground in a stone mill, then kneaded by hand, boiled and served right away. The shop is only open Saturday and Sundays. Please check the opening time in advance.

Freshly kneaded is delicious!


---
With a paid guide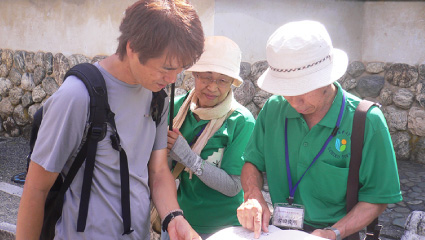 Walk around the town with a local guide
Together with a local volunteer guide you may walk a section from the streets of Yōkaichi-Gokoku where many popular tourist spots of Uchiko-town are aligned up to the Uchiko-za theater. Enjoy the warm hospitality by a "town walk" through the streets where the nostalgia still remains.
Uchiko town guide association
We work as guide to show our visitors the interesting sides of Uchiko, the town where we were born and grew up. Please enjoy walking in the old streets of Uchiko, full of warmth and hospitality.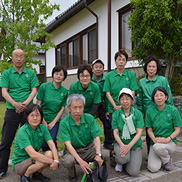 ---
Substantial course with a paid guide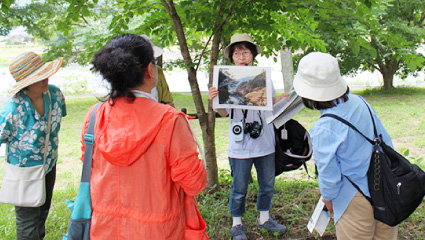 Showing the full charm of Uchiko

 
Uchiko Nekiaruki (walking tours)

In the dialect of western Japan and also of Uchiko Ne-Ki means "near" or "neighborhood". The original "town walk" means strolling through the charming and nostalgic "Ne-Ki" of Uchiko. There are many courses to choose from: a course for walking around the town in small alleys, a slow walking course through the idyllic woodlands or courses along the river through the nostalgic landscape.
Uchiko Nekiaruki (walking tours) (All 6 courses)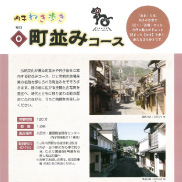 The "Town walk" plan invites to a stay, which is like actually living here. "Nekiaruki walk" with a dedicated guide, who will be happy to talk about the charm of his town during a relaxing walk through the streets.
There are also popular courses with periods of rest and a lunch break.
---
---
Walking trails
---
The Uchiko Stroll
---
---
Uchiko town official website